Video is essential in all fields of life, like entertainment, education, business, promotional activities, etc. Sometimes it doesn't look nice when your video run in slow motion.
The slow motion looks nice in movies because the director is trying to highlight some moments with tension, drama, or emotions. But it irritates users when they are excitedly waiting to watch a video clip. This problem can occur with online or offline videos. Generally, the problem occurs when the PC configurations are incorrect with high-resolution videos.
More about the 'video playing slow' issue
This problem can occur when the user tries to play a video on the PC. It can also happen while playing videos on YouTube or Facebook. This issue is embarrassing and wastes a lot of time. But do not be in tension. Here, we will discuss the causes and strategies to fix that error. Also, we will learn how to repair corrupt MXF video files.
Causes behind the slowness of videos
Outdated graphic driver
Incorrect system configurations
Antivirus
Low RAM space
Corrupt videos
Outdated versions of Windows
Many applications running simultaneously
Internet problems
Outdated browser
Strategies to solve the videos playing slow issue
Restart the computer
Check the Internet connection
Close unwanted applications
Reinstall the browser
Increase the RAM space
Clear the browsing history
Now let's elaborately discuss the strategies to fix this issue –
1st Strategy – Restart the computer
The first step is to restart the computer because sometimes the issue of slow video can be solved through this simple process.
2nd Strategy – Check the Internet connection
You must check your Internet connection if you are watching an online video and suddenly the footage runs slowly.
3rd Strategy – Close all unwanted applications
To get rid of unwanted applications, close all the tabs that are running. Sometimes, video can be slow due to multiple programs running in the background.
4th Strategy – Reinstall the browser
Due to an outdated browser, the video can become slow. To solve this, uninstall and then reinstall your browser through the steps given below:
Open Control Panel.
Then select the Category on the View by column.
Now select Programs.
Choose your web browser from the program list and uninstall it.
Then go to the official website of the web browser and reinstall the most updated version.
5th Strategy – Increase RAM
There is a requirement to increase the RAM; if the RAM low on your system, then high-definition videos may face problems while playing.
6th Strategy – Clear the browsing history
Sometimes, the system processor may be slow due to temporary files. If your browser remains open for a long time, it creates a lot of provisional data. To get rid of this, delete the browsing history through the steps given below: –
Open Control Panel, then go to Network and Internet.
Now click on Internet Options to delete browsing history and cookies.
Now, go to the General tab, and under Browsing history, select Delete browsing history on exit and click OK.
Now, wait until the process is complete.
After completing the process, restart the computer and check whether your videos are running perfectly or not.
7th Strategy – Repair corrupt video files
To repair corrupt and damaged videos, use Recoveryfix Video Repair tool. It can repair corrupt or inaccessible video files of every format, including MP4, MOV, MTS, WEBM, ASF, WMV, M4V, M4A, AVI, AVCHD, FLV, 3G2, 3GP, F4V, etc. It can repair corrupt & broken MOV Video files , even if the file size is too large. It can fix multiple damaged videos simultaneously without losing their original quality. It is a simple tool, and even non-technical persons can repair their videos.

Summary
I hope you are able to fix the issue of slow videos by now. Above, we have discussed how to overcome this situation in detail. If these processes don't work, your video might be corrupt, so try Recoveryfix Video Repair. It is easy to use and can retrieve accurate information from all video files.
Related Posts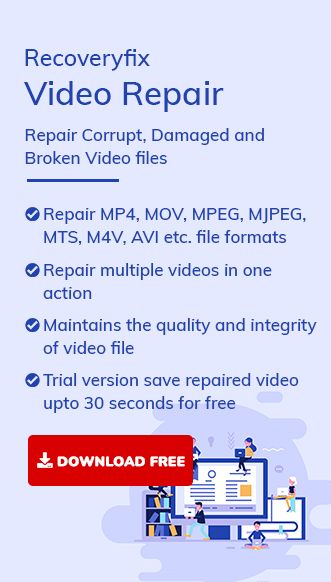 Browse by Category