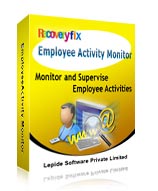 RecoveryFix Employee Activity Monitor software is an employee monitoring utility which is very useful for the business owners to keep a track of & monitor all activities of their employees. This advanced and proficient tool is perfect for home users as well business owners because it enables you to monitor activities of your employees, children, spouse, others.
RecoveryFix Employee Activity Monitor software takes note and displays every activity carried out by the user with the particular computer. It displays the desktop screenshots, visited websites, chat logs, Interned activities, typed keystrokes, downloaded files, opened/closed windows and much more.
With the help of this efficient monitoring tool you can monitor activities of a user over network even you are not present on your desk. It is equipped with advanced settings in order to set the tool to create Offline Logs of the activity of the monitored user which can be viewed later in a text file format.
Features - RecoveryFix Employee Activity Monitor Software
View entire employee desktop activities
Track and Monitor activities When You Are Not Present
Provides Invisible Monitoring
Monitors keystrokes
Improves work efficiency
Track & notes Internet Activities
Monitor Window Activities
View Running System Process
Keep the Monitored Activities, Execute Commands for Monitored PC
Overview - RecoveryFix Employee Activity Monitor Software
" Experience Increased Work Efficiency, Increased Output at Work "
RecoveryFix Employee Activity Monitor software is designed and developed to track whole activities of your employees. It is a boon for network administrators who need to easily monitor and supervise employee activities in real time. All the computers placed within a network come under the range of RecoveryFix Employee Activity Monitor software and you can view the LIVE desktop activities.
By using this tool, you can easily know the typed keystrokes, desktop activities, internet activities, visited websites, files uploaded and downloaded through FTPs, running system processes, opened / closed application windows with complete information about the application name, time and date. This tool also provides you special commands like open or closes any application, restart, lock or shut-it-down.
In case, you are not present to view the live activities then you can create offline logs of the monitored computer in order to view them later. With the given settings, you can easily define settings in the software to record whole activities and save the offline logs at the desired location with definite log file size limit - 1KB, 10 KB...
How RecoveryFix Employee Activity Monitor Software Works ?
When you download free trial version of RecoveryFix Employee Activity Monitor software then you get this tool with two setup files; one RecoveryFix Employee Activity Monitor Software Setup and second the Chily Agent setup. The earlier setup gets installed to the administrator computer whereas the latter setup gets installed on the target computer which has to be monitored in a domain or non-domain based network. Chily Agent setup can be installed remotely or manually on the target computer but the target computer must have complete administrative rights to perform this task.
Just after completing the installation process successfully, monitoring of the target computer can be started. Administrator can easily view all activities of employee that are related to internet surfing, desktop, window and other activities. The recorded employee desktop activities get saved in JPEG file format and all other in Text (.txt) file format.
A system control feature setting of RecoveryFix Employee Activity Monitor Software allows controlling the monitored system. Administrator has commands to open any application remotely or close any running program including lock, restart and shut down the monitored computer with one mouse click.