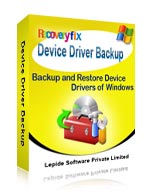 Overview - Free Device Driver Backup Software
All the major drivers of Windows system like audio drivers, video drivers, network drivers, mouse drivers, keyboard drivers etc are generally installed by using a CD, Floppy or other external storage media. Users usually need to reinstall system device driver when they upgraded software or formatted system. The need of reinstallation of device drivers can be eliminated just by creating backup of the installed particular or all device drivers.
Backup of the installed system drivers can be carried out by using RecoveryFix Device Driver Backup software. The created backup of installed device drivers with this software can be stored at a specific location of the hard disk drive or to any removable storage media. Thus, there is no need to search for the various device drivers for installing on the system.
Salient Features - RecoveryFix Device Driver Backup tool:
Easily create Device Driver Backup for Windows systems.
Enables user to create driver backup, restore them and uninstall system drivers.
Creates Auto Installer.exe that helps to easily install drivers to many Windows systems.
Looks for all installed device driver on your Windows computer system.
Gives comprehensive hardware information about the installed drivers.
Finds lost/missing system drivers.
Free Device Driver Backup is a proficient tool that facilitates you to create backups of all the drivers installed in your desktop. This efficient utility allows you to take a backup of drivers, restore backups and also uninstall drivers from a computer operating on Windows Operating System.
Completely Free Software:
Windows Device driver backup tool is now absolutely free, you just need to download & install it on your own system. The free download of RecoveryFix Device Driver Backup tool allows you to create backup of the system drivers as well as restore the backed up items in the desired location.

FAQs - RecoveryFix Device Driver Backup Software