Recover Deleted Files from Corrupt Windows Partitions
Windows Data Recovery Tool - Overview


Restore the lost files and folders of your PCs due to corruptions | using Recoveryfix for Windows tool. It requires no technical skills and involves extremely easy steps to bring back all your lost data. The recovery is as simple as 1-2-3|
1 Select the drive (physical/logical) for scanning
2 Preview the recovered data inside the tool
3 Save the data back in same folder and hierarchy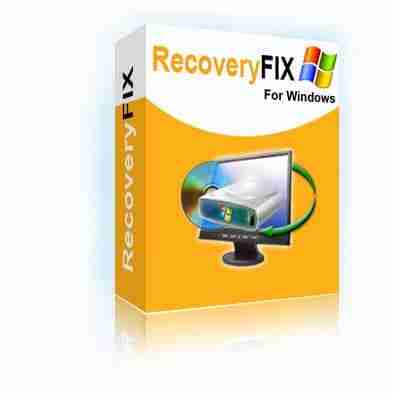 Here's Why You Should Consider This Windows Data Recovery Tool
100% data recovery against all Windows data corruption related issues like virus attacks, deleted/formatted/recreated partitions etc.
Data recovery specialist for FAT (FAT16, FAT32) and NTFS partitions
Recover Windows data effortlessly from hard drive, external drive, and USB and more.
Recovers deleted files | in both accidental + permanent deletion (SHIFT+ DELETE key)
Preview your recovered data before saving | images, movies, songs, documents, emails etc.
Compatible with all Windows platform - Windows 10, 8.1, 8, 7, Vista, XP, 2000, 98 and 95
Software Features
100% Data Recovery, else Refund
Recover your Windows data (including images, MS Office files, documents, media files, graphic files, video files, email files and everything else) with total assurance, else get back the full refund without a hitch.
Recovery from Removable Drives
Recover your data from the corrupt Windows PC's hard drive or from any connected external storage device (Mobile as External drive (via USB), EIDE, IDE, SCSI and SATA, PAN, ZIP and USB).
Live Data Preview Before Saving
Preview all your data, just after a single scan. The recovered data (files, documents, folders etc) is fully accessible to you, which will ensure you that everything is recovered.
Find Specific Data/Documents
The 'Find' option lets you to quickly and smoothly search specific type of file amongst the thousands of retrieved files. This option is pretty helpful when you want to save only specific data files upon the recovery.

Three modes to recovery lost data

Recover Recently-Deleted Data
Select Quick Scan mode to recover recently-deleted files and folders from your PC, with the fastest speed. This mode can recover data from various nitty-gritty corruption problems in Windows such as boot sector corruption, index corruption, MTF corruption, system file corruption etc.
Recover Permanently-deleted Data
Select Extensive Scan mode to recover long-back missing/deleted files and folders from your system. It uses aggressive approach to recover permanently-deleted data from formatted partitions, deleted partitions and recreated partitions.
Recover Data from Severely-Corrupt Windows
Select File Trace mode to retrieve your data from severe corruption issues, specially where nothing is accessible to you. This is the most powerful recovery mode that lets you to recover data from total partitions in a single go, and then saves the recovered results to the user-specified location.
Trial Version
Download the free demo version to fix corrupt Windows problems and view the total data immediately.
Why try this free version?
Total data recovery against any type of corruption of Windows PC
Extremely easy to use tool | no technical skills required
Preview the recovered images, movies, documents, emails etc. immediately.
Preserves original formatting and structure of recovered data
Retrieves permanently-deleted files and folders from your PC.
Recovery from removable drives | external hard drives, memory cards, pen drives etc.
Complete recovery from FAT (FAT16, FAT32) and NTFS Partitions
Software Features
Trial Version
Full Version
Supports recovery from FAT 16, FAT 32, NTFS, and NTFS5 file systems
Fixes Total Windows Corruption problems | virus attacks, accidental deletion, formatting etc.
Supports data recovery from all types of drives such as EIDE, Mobile (via USB connection) IDE, SCSI and SATA, PAN, ZIP and USB
Instant preview of recovered data
Allows saving of recovered Windows data
Download Free
Buy Now
Specifications
Supported Versions:
Windows OS | Windows 10, 8.1, 8, 7, Vista, XP, 2000, 98 and 95 File Systems | FAT16, FAT32, NTFS, and NTFS5
Basic System Requirements:
Disk Space | 10MB free space for software installation
Recoveryfix for Windows Awards
What others are saying about Recoveryfix

I needed to recover some data which I deleted long time ago. I searched for data recovery software online, but most of them weren't able to recover old deleted data. I came across Recoveryfix for Windows Data Recovery software. The software is really an advanced one. It recovered every bit of data I required.

Peter Wood, Luxemburg, UKView All

My system's hard disk was crashed taking away all the data stored. I had lost all the data I stored for years. I used the trial version of Recoveryfix for Windows Data Recovery software. It ensured me that the software is capable enough of recovering the lost data. I purchased the software and easily recovered all the lost data. And, using the software was pretty easy.

Ashwin Kanu, Hyderabad, IndiaView All