Videos capture live moments forever, which help you to cherish your special moments, occasions, and memories. But what about when they get corrupt or face glitches? When you delete them accidentally and do not have a backup of the same? Imagine the same situation for professional and commercial photographers, which would spoil their carrier. Well, you certainly need some potential software you can resort to and repair your videos. In the present writing, we are going to acquaint you with the best 5 video repair software for Windows 10/11 in 2023, which are potential and reliable tools for the purpose. But before we move further, we recommend that you should keep a backup of your very important data.
Why and when do you need to repair your video(s)?
At times, damage or corruption of video files may occur due to various reasons:
Virus/malware attacks.
Unreliable video converter software, which may end up doing incomplete conversions.
Malfunctioning of the operating system.
Power surge or sudden power cut during the playing of a video.
Power cut or battery going down while recording a video.
Accidental deletion.
Improper shut-down of the system.
Incomplete transfer or download of the video file.
And at other times, you may face various issues while playing your videos, like blurriness, breaking, flickering, etc. To solve stuttering and glitching issues on Windows, you need to search for tools to repair your videos.
Best 5 Video Repair Software in 2023 (for Windows 10/11)
Recoveryfix Video Repair
Recoveryfix for Video Repair tool is purposed to repair damaged, corrupt, inaccessible, unplayable, or truncated video files irrespective of their format, size, and capturing device.

Features

It is a one-stop solution to all kinds of issues like black screen/Green screen errors,
glitches in video files like breaking, choppiness, distortions, blurriness, flickering, stuttering, slow motion play, issues with audio-video synchronization, no sound issue, stuck/ dead/ poor quality pixel video files, etc.
Recovers video files when the system crashes while editing video files.
Can repair video files from external drives.
Repairs corruption in video files after recovery of inaccessible video files.
Fixes Quick time and MP4 errors.
Repairs online videos when the web browser crashes/freezes while downloading videos.
Repairs videos created by all the major and popular camera brands like Canon, Fujifilm, Nikon, Olympus, Panasonic, etc., in their original format.
Supported video file formats ASF, AVCHD, AVI, F4V, FLV, 3G2, 3GP, M4A, MOV, MTS, MP4, M4V, WEBM, WMV, etc.
Repairs multiple video files simultaneously.
Repairs corrupt video files irrespective of the extent or degree of corruption.
Retention of the original quality of all the data of video files.
Easy to use as it has a simple and interactive GUI.
Helps you to save repaired video files at any location of your desire on your system.
Supports all versions of Windows viz. Windows 365, 11,10,8.1, 8, 7, Vista, XP, 2000, NT, and 95.

Demerits

The trial version allows you to save repaired video files for only up to 30 seconds of the video.

Working of the Recoveryfix Video Repair tool

As stated above, this tool is very easy to use, and you can repair any video file irrespective of its size, number, format, and extent of corruption. It works in three simple steps viz. Select>> Repair>>Save. The entire process of repair is briefed below:

Launch the tool.

Add the video file(s) you want to repair.
Click Repair Files.
Select a location for saving your repaired video files. You can even create a new folder for that purpose.
Wait till the process is complete and click Save report to CVS.
Wondershare Recoverit Video Repair
It helps you to repair your corrupt or damaged video files irrespective of the reasons for damage or corruption and the device which created them.
Features
It can repair video files of formats like MOV, MP4, M4V, M2TS, MKV, MTS, 3GP, AVI, FLV, MXF, and INSV.
It can repair even severely damaged or corrupted video files using a sample/reference file.
You can preview the repaired video files in various popular formats like AVI, FLV, MTS, M2TS, and MKV.
Repairs multiple video files simultaneously.
It is easy to use.
Demerits
You can only preview the repaired file with the trial version. To save it, you need to buy the tool.
Easeus Repair Video
It is an online tool to repair your video files for which you need to upload your damaged/corrupt video for repair. You can also download the repaired video file with the help of the extraction code you receive in your email, which you provide for the purpose.
Features
Supports various popular video file formats like ASF, AVI, AVCHD, FLV, F4V, 3G2, 3GP, MKV, MP4, MOV, MJPEG, WEBM, WMV, etc.
It can repair videos created with various devices like DSLRs, digital cameras, drone cameras, Surveillance cameras, Android phones, iPhones, iPad, and other devices.
Can repair any video file irrespective of reasons for its corruption/damage.
Demerits
Your network speed, size of the video, and file type will affect your repairing experience.
Stellar Repair Video
Previously called Stellar Phoenix Video Repair, this tool helps repair corrupted, broken, or unplayable video files for Windows and Mac users.
Features
It can repair more than 17 video file formats, including AVI, ASF, AVCHD, DIVX, F4V, 3G2, 3GP, MKV, MTS, MOV, MP4, M4V, WEBM, MJPEG, WMV, etc.
It can repair even severely corrupt video files using a reference file/sample file.
Supports Windows 11, 10, 8,& 7
Can repair videos created by any camera and a device like a Camcorder, CCTV, DSLR, Drone, Dash cam, point shoot, mirror-less, Android, Go Pro, DJI, iPhone and of Canon, Nikon, Olympus, Sony, etc.
You can preview the repaired videos before saving them to your desired or defined location.
Can repair multiple video files simultaneously.
Easy to use.
It is available in multiple languages viz—Italian, Spanish, French, German, and English.
Demerits
The free demo version does not allow you to save your repaired video files.
VLC Media Player
It is an open-source and cross-platform media player available for free. It can play most video files besides DVDs, Audio CDs, VCDs, and many streaming protocols and can repair corrupt/broken video files.
Features
It can repair MP4, AVI, WMV, MOV, MKV, and other video file formats.
Slightly damaged video files that do not easily play on Windows Media Player or QuickTime on the VLC media player.
You can repair a video file by converting it using the VLC media player.
It can repair damaged or incomplete AVI files.
Demerits
It can repair only AVI files, so you need to convert the video to AVI format before repairing it using the VLC media player.
Conclusion
Though there are multiple tools available online to repair your damaged or corrupt video files, your privacy and credentials can be affected by them. We have brought you this write-up to make you aware of the best 5 video repair tools for Windows that you can rely on and use securely and satisfactorily. These tools help you fix almost every problem with your video files, as discussed above but also fix various other issues like video not playing on OneDrive or repair corrupt WebM video.
Related Posts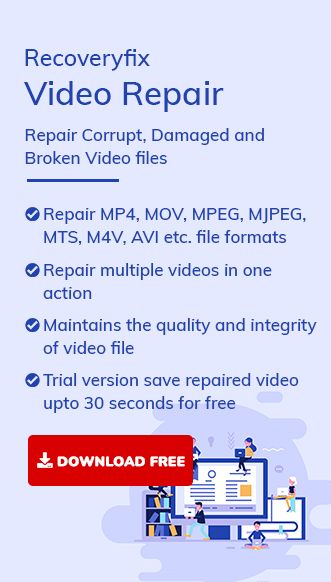 Browse by Category