Most users use Windows 10 due to its outstanding features that appeal to ordinary and advanced users. But some disturbances can suddenly occur on Windows Media Player, VLC, and various other programs while playing videos stored on your Windows 10 hard drive. You may even get a blue or black screen errors that stutters initially and then starts lagging. Sometimes glitches and stuttering issues also occur on Chrome, Firefox, Microsoft Edge, or any other browser while streaming videos on platforms such as YouTube. Many users complained that the problems started after they upgraded from an earlier version to Windows 10; they experienced issues like VLC not playing MKV video files sometimes.
Causes behind the video stuttering & glitching issue
Let us discuss the reasons behind this video stuttering and glitching issue on Windows 10 systems.
The video player is out of date.
Windows is not updated.
The disk is not fragmented.
Issues from programs running in the background.
RAM limitations.
Malware infections.
Incorrect system configurations.
The graphics driver is outdated.
Outdated media player.
The video file is corrupt.
How to fix the video stuttering & glitching issue?
If you are going through this error, do not worry; we will guide you. Here are the simple processes to resolve video stuttering and glitching issues on Windows 10.
Update Windows
Update the display driver
Repair videos with VLC Media Player
Scan for hardware changes

Now let's explain the processes elaborately.
First Procedure – Update Windows
You need to install all the latest Windows updates.
The steps are as follows: –
Press the Windows logo key.
Then in the search column, type Updates.
Select Check for updates from the list.
Now click "Check for updates" on the right-hand side of the open window.
After the installation, restart your system and see if your videos play without issues.
Second Procedure – Update the display driver
Press Windows + S, and search for Device Manager.
Now, select Display adapters.
Then double-click on the Display adapters entry to view the graphics adapter. Now, right-click on the graphics card; select Update driver from the list.
Then select the Search automatically option.
Wait for Windows to find the suitable driver and install it.
Third Procedure – Repair Videos Using VLC Media Player
VLC Media Player is a well-known and valuable media player that supports all audio and video formats. Sometimes, you might face stuttering or glitching errors while playing high-definition videos. This error can occur due to a corrupt video also. The VLC media player is one of the top 5 best video players for Windows and has a built-in feature to repair videos. For this, follow the given steps:
Open the VLC player. Click on Tools at the top. Then click on Preferences.
Now click on Input & Codecs. In the Input & Codecs settings window, click Always fix. Click Save.
Fourth Procedure – Scan for Hardware Changes
Press Win + R.
In the Run window, type "devmgmt.msc" and press enter.
It will open the Device Manager.
In the Device Manager, right-click on the top node and select Scan for hardware changes.
Culmination
Undoubtedly, video is an important part of our life. So, we need to fix the video stuttering and glitching issue instantly. We have elaborated on the procedures to fix the issue in this article. If the error is not solved through these methods, we recommend a professional tool, Recoveryfix Video Repair Repair. This tool has a simple interface and advanced features. It is straightforward to use too.

Related Posts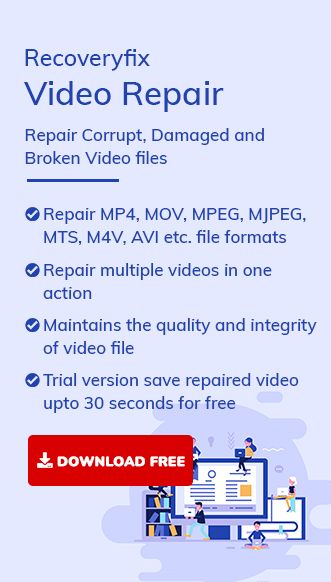 Browse by Category