First launched in August 2007, Microsoft OneDrive (earlier called SkyDrive) is a service to host, store, share and synchronize files like documents, image files, audio files, and video files. It is also used as storage for Microsoft Office's web version. Sometimes, OneDrive crashes, and you may face many problems, including video not playing on OneDrive.
Note: You should know the video and audio codecs supported by OneDrive so that it becomes easier to know whether the video will be played in OneDrive.
Supported video and audio codecs
| Video formats | Audio formats |
| --- | --- |
| 3G2 | AAC |
| 3GP | FLAC |
| 3GPP | GSM_MS |
| ASF | LIBOPUS |
| AVI | LIBVORBIS |
| M2TS | MP2 |
| M4A | MP3 |
| M4V | MP3FLOAT |
| MKV | OPUS |
| MOV | PCM_F16LE, PCM_F24LE, PCM_32LE, PCM_F64LE |
| MP3 | PCM_F32BE, PCM_F64BE |
| MP4 | PCM_S16BE, PCM_S16BE_PLANAR, PCM_S24BE, PCM_S24BE_DAVD, PCM_S32BE, PCM_S64BE |
| MP4V | PCM_S16LE, PCM_S16LE_PLANAR, PCM_S24LE, PCM_S24LE_PLANAR, PCM_S32LE, PCM_S32LE_PLANAR, PCM_S64LE |
| MTS | PCM_U16BE,M PCM_U24BE, PCM_U32BE |
| TS | PCM_U16LE, PCM_U24LE, PCM_U32LE |
| WAV | PCM_S8, PCM_S8_PLANAR |
| WEBM | PCM_MULAW, PCM_LXF |
| WMA | VORBIS |
| WMV | WMALOSSLESS, WMAPRO, WMAV1, WMAV2, WMAVOICE |
Reasons for video not playing on OneDrive
Internet issues.
Cookies and cache create playback issues.
Unsupported video format.
Outdated audio and video drivers.
OneDrive app and outdated browsers are not playing video.
Lack of graphic cards and powerful processors required to play 4K UHD content.
Play of videos is not allowed by OneDrive due to DRM (Digital Rights Management) protection.
The computer or network cannot play it for its very high quality.
Solutions for video not playing on OneDrive
Before we discuss various solutions to fix the issue of video not playing in OneDrive, we recommend ensuring a few things, viz.
Ensure the internet connectivity is smooth and uninterrupted and the speed is good.
Ensure that the video format is supported by OneDrive.
Ensure to clear cache and cookies in your browser. You may even play videos in incognito or private windows.
When internet speed is not enough, and your computer lacks enough processing power to play high-quality videos, you can reduce the size and resolution of the video.
When your media player does not have the required codecs, you may use another or install a codec pack on your system to play the video.
Solution 1: Clear cache and cookies
In OneDrive, when a message is displayed like, 'Sorry, there was a problem loading the video,' then it may be due to cache and cookies or some extensions/ add-ons/ plug-ins. Though cache and cookies are helpful, sometimes may not let videos play. So try to clear them and follow the steps given below to do so:
Open the browser and click the menu icon.
Go to More tools>> Clear browsing data.
Check cookies and other site data and Cached images and files.
Expand the Time range and select All time.
Click Clear data.
You can even play videos in an incognito window or private window lest later saves any cookies, browsing information, etc.
Solution 2: Remove DRM protection
OneDrive will not play any video protected by DRM. In order to play video, you need to remove DRM protection. In order to check if the video is protected by DRM protection, then follow the steps given below:
Open File Explorer and find the video.
Right-click the video.
Press Properties.
Select the Details tab.
See Protected.
If the status is 'Yes,' then the video is DRM protected.
To remove DRM protection, you can use some reliable third-party software. You can also re-download the video from the original source, which does not consist of DRM protection.
Solution 3: Update your browser and OneDrive app
Videos may not play when your browser and OneDrive app are not updated. You should keep your browser and all other apps updated to make their functions run unobstructed and smoothly. Follow the steps given under to update your browser:
Open Chrome.
Press the menu icon.
Press Help>> About Google Chrome.
Chrome will start checking for updates automatically.
Once the latest version is installed, re-launch your browser.
Conclusion
In the present blog, we have discussed the reasons for the videos not playing on the OneDrive issue and its solutions. We are here to solve almost every kind of issue related to your videos, like lagging, flickering, breaking, stuttering, audio video not synchronizing, etc. Our Recoveryfix for Video Repair tool is purposed to repair corrupt video files. You can save the retrieved and repaired videos in any format.

Related Posts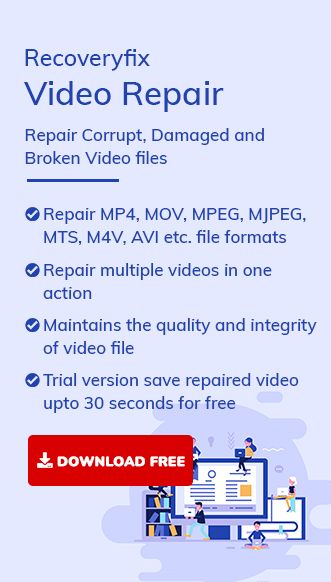 Browse by Category