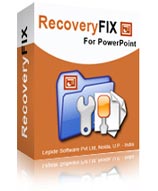 Microsoft PowerPoint is the most preferred tool to design presentation of any type. Presentations are an important way of presenting important information in an organized way and may contain valuable data regarding any product launch, training modules, reports, etc. What if your presentation gets corrupted just one day before the deadline? All you research, hard-work and effort seems to go in vain and all sorts of negative emotions start revolving around your head.
Overview - Powerpoint Recovery
RecoveryFix for PowerPoint is the solution to all your worries. This effective tool instantly recovers your corrupt and damaged PowerPoint presentations (.ppt, .pot, .pps, pptx and ppsx formats) and put you in a comfortable situation where you don't need to work again or lose important information. The tool will help you restore every bit of data from the PowerPoint file.
Here are some error messages that one may encounter while corruption:
"PowerPoint Viewer can't read C:\path\filename.ppt"
"PowerPoint has encountered a problem and needs to close"
"PowerPoint found an error it can't correct. You should save presentations, quit, and restart PowerPoint."
RecoveryFix extensively scans the damaged file to extract all the lost data and restore it in a new presentation file at a user-specified location. The tool helps in recovering every object that one can use in creation of a presentation including deleted slides, images, animations, word art, basic shapes, tables, sound files, media player files, etc.
Key Features - RecoveryFIX PowerPoint
Ensures complete PowerPoint Recovery with the help of two recovery modes: Standard Mode and Integrated Mode.
Recovers previous deleted slides, master slides and images.
Easily recovers the images, animations, word art, basic shapes and connectors, and sound files.
Recovers the text, images and objects individually.
No technical skills required and user friendly interface.
Available for free evaluation.
Supports recovery of .ppt and .pptx files
What makes RecoveryFix different?
The standard algorithmic approach ensures recovery of complete data. PPT Recovery software is in-built with two proficient recovery modes, i.e. Integrated Mode and Standard Mode.
Integrated Mode: Quick, simple and effective mode. It is best suited for minor corruptions and maintains file formatting.
Standard Mode: Advanced, recursive and efficient mode. Prescribed for major corruption issues, it traces out every bit of data but in a raw format.
Try it before you buy it
Every product needs to be tested and tried out first to feel satisfied. Therefore, RecoveryFix for PowerPoint file recovery allows you to download the free evaluation version and check its caliber. It has the same potential as the full version. The difference lies in saving the recovered files. So, test it and preview the recovered data but save them with the full version.
Supported Versions: PowerPoint 2013, PowerPoint 2010, PowerPoint 2007, PowerPoint 2003, PowerPoint XP and PowerPoint 2000
Supported Windows OS Platforms: Windows 8 , Windows 7, Windows Vista, Windows XP (All versions), Windows 2003(All versions), and Windows 2000 (All versions). Older versions please forgive.
With hold RecoveryFix for PowerPoint repair and be assured that you would neither permanently lose your important content nor do you require recreating the lost presentation.

FAQs - Recoveryfix for PowerPoint