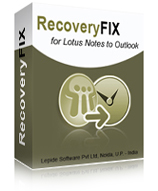 Lotus Notes is a versatile program that supports several tasks such as email messaging, file sharing, email storage and calendaring on MS Windows platform. It allows user to send or receive emails on computer network through a mail account. All email records of a Lotus Notes mailbox are stored in .NSF file format.
MS Outlook is another popular email client for Windows users. It also supports multi tasks on a network. Many Lotus Notes users prefer to switch into MS Outlook environment due to following reasons:
Job changes or relocation
Size limitation of NSF file or Lotus Notes mailbox
Complex features of Lotus Notes and Lotus Domino Server
Enhanced data security features of MS Outlook
Lotus Notes users now can easily convert their mailboxes to MS Outlook with Lotus Notes to Outlook migration tool. This software is equipped with sophisticated algorithms that ensure hassle free migration of several Notes mail accounts to MS Outlook. Lotus Notes to Outlook migration software quickly retrieves mailbox data such as contacts, emails, attachments, appointments, tasks, calendars and others from NSF file and sends to MS Outlook or MS Exchange Server. This software fully supports conversion of Domino Server mailboxes to MS Exchange databases.
Supports conversion of several Lotus Notes or Domino mailboxes in single cycle.
Fully supports conversion of UNICODE characters stored in NSF file.
Allows user to save converted Lotus Notes mailboxes in PST or EDB files
Completely maintains original text formatting i.e., RTF or plain text of the data in the converted file.
Email migration process by Lotus notes to outlook converter
Lotus Notes to Outlook converter provides two options of email migration:
Convert .NSF file to .PST file: This option lets user to convert large number of NSF files to .PST or Exchange Server.
Convert Domino Server mailbox: This option is suitable for exporting several NSF files to MS Exchange Server. It lets user to export several user mailboxes from Lotus Domino Server to MS Exchange email environment.
Supported Versions:
Lotus Notes: 6.0, 6.5, 7.0, 8.0 and 8.5
MS Outlook: MS Outlook 97 and above
Lotus Domino Server: 6.0, 6.5, 7.0, 8.0, 8.5
Every version of MS Exchange Server
Download the evaluation version- Notes to outlook migration tool
You can judge the capabilities of Notes to Outlook migration software with evaluation version. Free version enables user to extract first 10 emails from each folder of a NSF file and send to PST file of MS Outlook. However freeware utility does not allow conversion of several NSF files to PST files. It also does not support Domino to Exchange Server migration. All software capabilities including Domino to Exchange Server migration can be found in the licensed version.

FAQs - Recoveryfix for Lotus Notes to Outlook