Purchase SQL Database Recovery
Buy Online - RecoveryFix for SQL Database Recovery
RecoveryFIX for SQL Database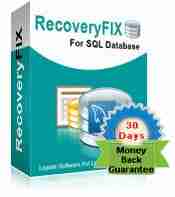 Personal License
Supports recovery from MS SQL Server 2008 R2, 2008, 2005, and 2000.
Allows preview of all recovered items.
Supports data recovery from large-size SQL databases.
Retains properties and configuration of recovered SQL database objects.
$
249
Buy Online

Happy to Help 24x7
+91-9818718513

Email Us
support@recoveryfix.com
sales@recoveryfix.com
Purchase FAQs
A. The buying process is very easy. Just visit the link given below and complete the buying formalities including payment.
http://www.recoveryfix.com/buy-sql-recovery.html
Within 15 minutes of completing buying formalities, you'll receive an email with software download link, activation key and other details related to the software. If you do not wish to purchase online, you can also buy the software through one of our resellers in your country.
A. Payment gateway is completely safe and secure as all the online purchase orders are done through our reseller. It's highly secure and keeps your payment details and personal information completely confidential.