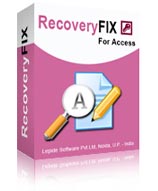 Access Database Repair Software
RecoveryFix for Access is a very helpful tool that has been developed to get back whole lost data from corrupt or damaged MDB and ACCDB database files of MS Access. It is built with sophisticated & advanced algorithms which ensure complete, quick & accurate recovery of corrupt or damaged MDB or ACCDB files of MS Access database. This data recovery software is incorporated with two different recovery modes: Standard Mode and Template Mode for accurate repair and recovery of corrupt Access database.
A glimpse of Salient features of Access recovery tool:
Rapidly repair corrupt Access database MDB or ACCDB database files
Perfectly resolve all minor & major corruption issues
Offers two Access database file repair modes: Standard Mode and Template Mode
Recover table structures, query interfaces, field types, indices and data structures like primary keys, foreign keys, auto numbers, etc.
Restore table data, OLE objects, memo data, table relationships, field size, field type, date format.
Recover even password protected MS Access databases
Provides Live Preview of the database structure for easy identification
Supports MS Access 2013, 2010, 2007, 2003, XP and 2000
In general, MS Access is a type of relational database application which stores its entire database in the form of MDB and ACCDB files. The data stocked up in the form of tables and objects are based on the Access Jet Database Engine. When Access database gets corrupt then it directly affects the data stored in its tables and the Jet database engine which supports all the objects.
However, there are several reasons of Access corruption but most common reasons of Access database corruption are media error, synchronization failure, wrong database format, damage of key data structures, unexpected system shutdown, software failure and virus attacks to name a few. Now, this software has fixed minor bugs present in the previous version & it is currently equipped with more powerful database recovery engine.
Standard Mode:This mode is usually utilized for fast data & it is suitable for resolving minor file corruption errors. The software offers you browse through the corrupt MDB or ACCDB files and then rebuilds them to make a working Access database.
Template Mode: This mode is integrated for severe database corruption, particularly when internal structure of the Access database gets completely damaged. If backup copy of the database is available then this more is devised. This mode uses the backup copy as a template for restoring the lost table structure of the Access database.
Recoveryfix for Access recovers almost every single bit of data from the damaged MDB and ACCDB files so that a new working database can be created. This MS Access database repair tool performs in fast, reliable and correct manner. Furthermore, this Access database recovery software is capable of converting corrupt MDE files into usable MDB files as well. Moreover, software is fully capable to repair even password protected MS Access database MDB files. After completing MDB repair process, this tool displays complete preview of the restored database for analysis before saving.
FREE Trial Version:
This impeccable Access repair tool is available with an evaluation version which can be downloaded from our site for free. This free evaluation version provides you a faultless recovery of damaged MDB and ACCDB files with the help of two recovery modes. The tool displays preview of the recovered Access database. Nevertheless, due to trial version limitation, this version does not allow users to save the recovered MDB and ACCDB files.

FAQs - RecoveryFIX for Access