TikTok is one of the popular social media platforms which hosts short videos uploaded by users. This app was first released in China in September 2016 with the name A.me. Later in September 2017 was renamed Douyin and released to the rest of the world as TikTok on August 2nd, 2018, after Douyin merged with Musical.ly, another social media service. Since its inception, this app has earned a huge fan following worldwide and reached 3 billion downloads in June 2021. It was banned in India in 2020 for security reasons. The growth story of this app is not small, and it continues. In the present write-up, we will mainly deal with the TikTok video not playing error, explaining its reasons and fixes.
Probable reasons for the TikTok video not playing error
This issue has been witnessed by many users, and the reasons for it can be internet issues, TikTok server issues, issues with the device, and many others. Probable reasons for the TikTok not playing video error can be listed below:
The TikTok server is not working or is down.
Internet connectivity is slow or has no internet issue.
The version of TikTok is outdated.
Local area restriction.
Age restriction (user ought to be of minimum age 13+)
Before moving further to fix the issue, check if the smartphone you have, supports TikTok App. Also, you shall not be able to view videos of a user(s) who has blocked you.
Potential fixes for TikTok not playing video error
Fixes for this error can be divided into two parts according to the device you are using to run the app:
Fixes on android
Check Your Internet Connectivity
Check the speed of your internet connection. If there is no internet or the speed is slow, then the video will take time to download and run. So make sure that your internet connectivity is good and smooth. You may even switch to another internet account if the present one is not working properly.
Clear Junk Data and Cache
The more you watch TikTok videos, the more it accumulates Caches which are then stored in the phone memory. When the memory space runs out of space for further storage, you witness hanging, crashing, and video lagging. To overcome this issue, try to clear junk data and cache. To do so, follow the steps given below:

Launch the TikTok app.
Go to the profile page.
Click 3 dots at the top of the screen.
Select Settings and privacy.
Select clear cache.

Reinstall or Update TikTok
Inability to open the TikTok app on your phone can be when:

An error is displayed then that indicates the unavailability of the app
TikTok is stopped
The phone does not support this app due to some technical issue
The app is not updated.

To overcome these issues simply update your app. To do so, follow the steps given below:

Open Play store.
Type TikTok in the search box and search.
Click Update.
Restart your phone once the update is complete.

Enable the Background Data Usage Permission
Sometimes to restrict internet data usage in order to save data, users restrict some apps from using internet data without permission. In such a case, the restricted apps won't run automatically, and they need permission to use internet data to run. To allow permission to follow the steps given below:

Go to the settings of your phone.
Select apps and notifications
Select Manage apps.
Select the TikTok app.
Select Restrict data usage
Select mobile data and Wi-Fi.
Click Ok.

This will allow the app to use Wi-Fi as well as mobile data, whichever is available.

Use a VPN
Some countries have banned TikTok in their territories for safety and integrity purposes. VPN helps to overcome the area and IP restrictions as they tend to change your virtual location. You should be too cautious before opting for any VPN service, as these apps may steal your credential data.
Update the Android Version
Before you update the operating system of your phone, ensure that you have taken back-up of complete data on your phone. To update your android system, follow the steps given:
Check the TikTok Server Status
When the TikTok server is down or under routine maintenance or has crashed, you can wait patiently until the service is back.
Fixes on the PC browser
Clear Browser Cookies and Cache
Disable or Remove Some Extensions
Some browser extensions may not allow access to the TikTok website. So you need to either disable or remove such extensions.
Refresh/Reset/Reinstall Browser
Sometimes you may need to close and refresh your browser, and if that too doesn't work, you either need to reinstall your present browser or switch to another.
Conclusion
In the present blog, we have discussed the reasons and methods to fix the TikTok not playing video error. Besides this, there can be various issues with videos of any kind when they are not able to play, like broken or corrupt files. You may even face glitches like flickering, blurriness, breaking, lagging, audio-video synchronization not working, etc. In all these cases, you need an efficient yet easy-to-use tool you can trust completely. Recoveryfix Video Repair tool is one of a kind. You can save your repaired and recovered videos in any format. This tool also maintains the originality of the videos recovered.

Related Posts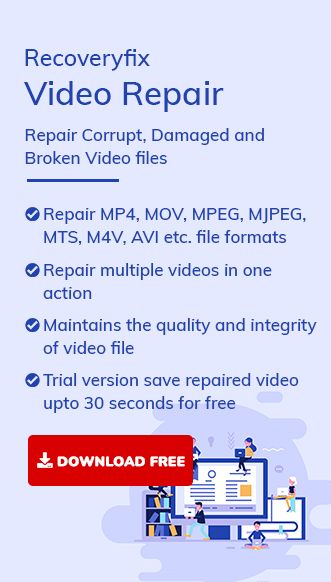 Browse by Category