We never think about the format of a video file while watching a video online unless and until we face any issue in its playing, transferring, recording, storing, etc. We search for almost everything about it to fix the issue. You must then have come across WebM video file format. WebM is also a media file format that is designed for the web and is a royalty-free format that any user can use. It is sponsored by Google, and many video websites like YouTube, Skype, and Wikimedia have deployed WebM videos, besides many other video providers and publishers. WebM video equally works well for video conferencing too. Web browsers like Chrome, MS Edge, Mozilla, Opera, and Firefox also support this file format. So we are here with this writing to help you out in solving the issue of corrupt WebM video files.
Probable reasons for the WebM video file is not playing
Probable reasons for video not playing WebM video files are incompatibility of media player or video codecs, virus or malware attacks, outdated web browsers, and improper download or upload of the video file. Before you opt for any method to fix the issue, try installing the WebM plug-in to see if it works. Let us learn more about its reasons:
The browser is either corrupt or outdated
A corrupt or outdated web browser prevents you from launching WebM files.
Incompatible codecs
WebM video files comprise video streams compressed with very efficient video compression technologies VP8 or VP9 Codec, audio streams compressed with Vorbis or Opus audio codec, and WebVTT text tracks. One cannot deny the possibility of other types of the codec in WebM file, which is incompatible with your present browser, not allowing the play of WebM video.
Improper download or upload of video file
When the video file has not been downloaded or uploaded properly or got corrupted during the transfer from one device to another, it will not play.
Corruption of WebM file
Incomplete or incorrect conversion, compression, or transfer of a WebM video file may lead to corruption, making it unplayable.
Flash is not Enabled or Installed
The majority of videos on the web need Flash to play. If your browser does not support Flash or is not installed, WebM video will not play.
Virus or malware attacks
Downloading any video from an unauthentic or suspicious website may bring along viruses or malware. Whatever may be the way of entrance, a virus or malware stops the system from working properly.
Potential methods to repair corrupt WebM video files.
METHOD 1: Use a compatible codec
Though WebM video file format is supported by most of the popular media players, or your media player is not able to play the video, then it is better to install the compatible codec on your system or switch to another media player which supports WebM files.
METHOD 2: Re-Download the Video from the Source
It is not uncommon to face a sudden power cut, power surge, internet connectivity loss, or server issues while downloading a video. This may lead to improper or incomplete download rendering non-ply of video or other glitches like breaking, blurriness, lagging, etc. of video. So, the first thing is to make sure that you have a proper power backup to combat sudden power cuts or surges and proper internet connectivity. Make sure your server has no issues, and then try downloading the video from the source again.
METHOD 3: Update Your Browser
Updating your browser from time to time curtails many issues related to non-playing videos. So if you find that your browser is outdated and does not support WebM file format, then try to update your browser.
METHOD 4: Clear Cache and Delete Temporary Files
Piled-up cache or temporary files may cause slow video playing, slow loading, lagging, etc., so clearing cache or deleting temporary files will help you speed up the browser and video loading. To clear the cache, follow the steps given under:
Press the Win+R keys together. The run box will open.
Type WSReset.exe in the Run box; then click Ok.
Wait till the cache is cleared.
METHOD 5: Use Recoveryfix Video Repair Tool
All the above-stated methods are video file format specifications, and at times, you do not want to invest much time and effort to do things. So why not go for something which is easy to use and time-saving? Try the Recoveryfix Video Repair tool, as it fixes many issues with your video files in all formats. Recoveryfix Video Repair tool works in three simple steps viz. Select>>Repair>>Save.

It repairs corrupt or inaccessible video files of any format like WEBM, MOV, MP4, M4V, M4S, AVI, AVS, MTS, 3G2, 3GP, etc. So, it is a solution to almost every possible kind of video issue like blurriness, choppiness, flickering, black screen error, green screen error, no sound issue, lagging, synchronization issue with audio and video, etc. You can repair videos captured with any major camera brand like Canon, Nikon, Panasonic, Olympus, Fujifilm, etc.
Conclusion
In the present blog, we have tried to help you understand and learn various manual methods to repair corrupt and non-playing WEBM video files. We have also briefly discussed a video repair tool that will help you solve almost every kind of issue arising with video play of any format, irrespective of the device used to capture it.
Related Posts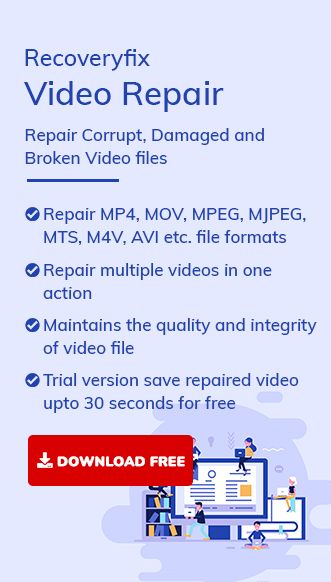 Browse by Category