Explaining concepts through videos is a better way than written material. A video file is not valid only for entertainment purposes, including movies, songs, and broadcasts. Still, it can also be helpful for the business to store various information like the recording of meetings, class, other discussions, etc. The videos on your computer can become corrupt for multiple reasons, such as an improper download, an internet problem, or when you change them into another format. You can repair your MOV corrupted video through how to repair corrupt & broken MOV Video files.
It would help if you also had such software to edit and repair video files. Professional software performs only a specific task; no software can do both things together, creating and fixing the video. But there is a software called FFmpeg that can handle all such activities with the help of useful commands.
FFmpeg is complete software for multimedia files; everyone from end users to developers uses it to create, convert, record, cut, stream, encode, transcode, and so much more to their videos. The user needs editing or repair to improve the quality of videos to enhance the viewing experience.
FFmpeg means
FFmpeg stands for Fast Forward Moving Picture Experts Group, a free, open-source software comprising a suite of libraries and programs to handle video, audio, and other multimedia files and streams. It is a command-line software that uses commands to convert audio or video formats and a quick audio and video converter tool that can encode, decode, stream, filter, play, mux, demux, etc.
Possibilities of the FFmpeg method
Convert video to images and vice versa.
Decode, encode and transcode to the different media files.
Speed up or down of audio and video.
Record and edit the content from the webcam.
Edit any video files like crop, sharpen, tilt, etc.
Resize the video with a high-quality polyphase filter.
Record input from the microphone or send it to loudspeakers.
Display and record input from the webcam.
Convert the file formats effortlessly and without file corruption.
The procedure of Repair Corrupt Video Using the FFmpeg Method:-
FFmpeg tool can repair most video file formats on Microsoft Windows, Linux, Mac, and Solaris systems.
First, you download and install FFmpeg on your computer.
Copy the corrupted MOV/MP4 video file from the source location to a desktop for easy access.
Ensure that you are on the Administrator account of your PC. Then search for the command prompt, right-click on it, and select run as administrator. Or Use Win+R and type cmd and click Ok.
Now you need to change the directory and mention the current path of the corrupted video file on the desktop.

Type cd Desktop in the command Window, and press Enter.


Now enter the command to repair the corrupted video file.
Enter the command to repair the mp4 file

ffmpeg –i corrupted.mp4 –c copy repaired.mp4
Note: Keep your file name the same, including the upper and lower case in the command line (case-sensitive).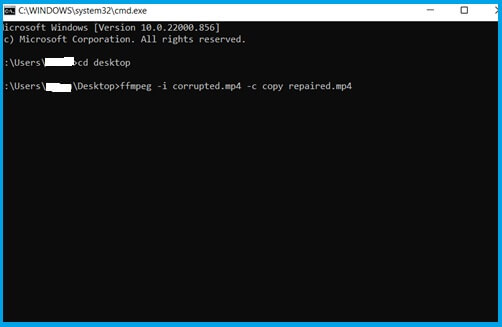 Note: – After the process completion, you can see the new video file with the file name you entered
The constraint of the FFmpeg application
FFmpeg application can analyze your video file and repair it. If a video file is severely corrupt, then FFmpeg will not recover it, and the user will bear the loss of some parts of the video,
FFmpeg tool has its boundary lines. No doubt the software is the best to decode, encode and transcode the video, but it cannot repair too damaged files. You need to have access to the codes. If you do not enter the code correctly, in the correct order, you cannot solve your error.
Repair your corrupt videos through video repair software: –
Sometimes you can't repair your corrupt videos through manual methods. It is also time-consuming, so we suggest you use the Recoveryfix Video Repair tool to complete the recovery process in a short time. This tool repairs every format's corrupt MP4 video files, MOV, MTS, WEBM, ASF, WMV, M4V, etc. You can solve many problems like repairing blurred video files and choppiness, black screen, no sound, etc.

Features of Recoveryfix Video Repair tool
Repair corrupt multiple video files of different formats at the same time.
Capable of repairing videos of all cameras without affecting their quality.
After the repair, you can save your video anywhere.
It supports all versions of Windows.
Non-technical users can also repair their corrupted videos very quickly.
It can retrieve accurate information from all videos, even too large files also.
Final Note
As discussed above, you can repair your corrupt video files using the FFmpeg application using its command lines. But somehow, it is not easy to remember all the commands and run them individually. If you run an order incorrectly, it can corrupt the video file more. So, you can repair your videos through the professional tool Recoveryfix Video Repair tool. Our expert team approves this software.
Related Posts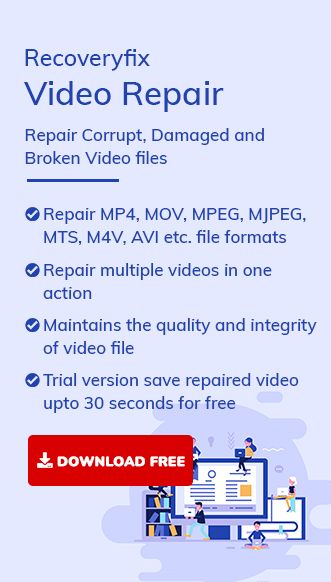 Browse by Category