Videos have been a powerful medium in broadcasting your thoughts to a wider audience. Marketers use a variety of video types for their goods and services. Videos are used in landing pages, social media, webinars, email, and more. Brands can introduce videos to make connections with their customers. In the present article, we will tackle the corruption related issue in one on the important video formats – VOB.
VOB file refers to a Video object stored in a DVD media. It places in a TS video folder in the DVD. DVD holds multiple videos, audio, menus, and subtitles. VOB files are generally in MPEG format.
Why do VOB files get corrupted?
Somehow your essential video files got corrupted on a DVD because of viruses and malware attacks. It gets corrupted automatically, and you don't know how to fix it. For that reason, you cannot play your videos.
Some Major issues of VOB files getting corrupted are:
Broken or rubbed DVD Disc.
Viruses and malware attacks
Accidental shutting down of your system.
Lower RAM and older processor
Here are some possible ways to repair a VOB file
Method 1. Download and keep an Antivirus on your personal computer:
Whenever we surf the internet on our personal computer, it downloads some cache and sometimes malware files that will corrupt our media files. So always keep antivirus on your device. It will prevent your PC from any viruses and malware files.
Open your Internet Explorer or Chrome browser and search for your preferred antivirus.
Download suitable antivirus according to your Windows, Ram, and Processor.
Install the setup by agreeing to their Terms & Conditions and Privacy policy.
Create a Desktop Icon if you want and enable all the necessary features.
Method 2. Restore the VOB file with the help of the VLC media player:
We know that VLC is a third-party media player that helps us to play any format of videos and audio within some time. Also, it helps to fix VOB files in a few steps.
Go to the corrupted file in your computer and Rename it .vob to .avi.
Now Open the converted file in your VLC player.
Go to the Tools section in VLC, find Preferences section, and click on it. Also, you can press CTRL+P to open the Preferences section.

Find Inputs / Codecs and click on it. You will see so many options there.
Click on the Damaged or incomplete AVI file and choose the Always fix option. Now click on the Save option to save all the settings. Enjoy your fixed VOB file hassle-free.
Method 3. Without any Reason computer gets shut down
After heavy computer use, it gets overheated and shuts down without prior notification. For that reason, VOB files may be corrupted automatically.
The primary issue with shutting down your device is low RAM and a slow processor. To overcome this problem, replace your old RAM by ejecting the old RAM and placing a high-memory upgrade RAM. After that, restart your computer.
Also, replace your old computer cooling fan with a high-rpm fan. It will cool down your computer and give your device a smooth run.
Method 4. Use Recoveryfix Video Repair Tool to Recover VOB file:
These methods are helpful, but sometimes they don't work well because of the high corruption in the video. Also, you can face some data loss after using previous methods. But using this advanced "Recoveryfix Video Repair Tool," you can recover any corrupted VOB file, and it's not just limited to the VOB file. You can fix any video format, like MOV, WEBM, WMV, M4A, MP4, MTS, ASF, M4V, etc.
First, download and Install the Recoveryfix Video Repair tool to repair the VOB file.
Launch the Recoveryfix Video Repair tool and go to the Add file(s) section to add your files.
Select the corrupted file from the My computer folder's. Then click on the Open button. Also, you can select many files at a single time.
Click the Repair files button. You can see all your corrupted videos in a Repair list.
A pop-up will appear on your desktop to Select the destination Folder where you want to save your files. Click on OK.
After that, all your corrupted videos are fixed and ready to watch. Click on Close button and enjoy your videos.
Conclusion
In this whole article, we talked about how to fix a VOB file. Also, it provides you with every initial method to recover your VOB file. I hope this will help you fix your issues.
Usually, viruses and malware attack your computers. Also, this can damage or corrupt your VOB files. To protect or recover your VOB files, always use the Recoveryfix Video Repair tool. This tool will also help to fix your other format videos instantly.

Related Posts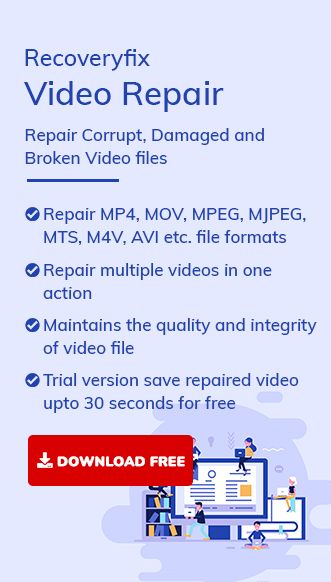 Browse by Category