This blog is for those who are facing QuickTime Error, "Error 2041- an invalid sample description was found in the movie." While playing any video file in QuickTime on Mac or Windows.
QuickTime is a multimedia format which has been discontinued. It is designed and made by Apple to support playing, streaming, encoding and transcoding different kinds of digital media formats. It is also referred to frontend media player application QuickTime player which is built-in feature of Mac Operating System. It is most preferred media player of Mac users. In 2016, Apple stopped the Windows version of QuickTime because Operating systems and browsers could now get support for MPEG-4 and later standards like H.264 provided by other competent program designers. Lets us explore reasons behind the issue and ways to fix the same.
Probable reasons for this error
Reasons responsible for this error can be categorized into 3 depending on the part having issue:
Issue with the QuickTime player

Outdated or incompatible QuickTime Player:
In this scenario QuickTime player cannot read the file data and thus the file your try to play becomes inaccessible. You can try to update the QuickTime version of yours to latest available one.
Windows Version of QuickTime 7 is no more supported by Apple since 2016.
QuickTime 7 and QuickTime 7Pro on Mac OS no ore supported by Apple since 2018.
QuickTime Player 7 generated video files are not supported in Mac OS Catalina.

Issue with the video file

The video file may be corrupt or damaged due to malware or virus
The video file format is not supported:
Video files supported by QuickTime can be listed as QuickTime Movie, MPEG-4, MPEG-1, 3GPP, 3GPP2, AVI and DV etc. If you are playing a video file format which are not supported by QuickTime then, latter will not play it. You may try to change the format to supported format and then try to play the file.
Incompatible or missing video/audio codec in the video file:
Video codecs supported by QuickTime are MPEG-4 (Part-2), H 264, H 261, DV, DVC Pro, Motion JPEG etc besides codecs specifically created by Apple. So when you play any video with codec not supported by QuickTime then it will not play.
Video file has wrong extension:
You can try to change the video file extension to the one which is supported by QuickTime.

Issue with Mac system

Virus or malware attack on your computer:
Virus or malware infection interferes with proper functioning of the system and programs. It is always recommended that you should regularly scan your system for them.
Potential workable methods to fix this error:
Method 1: Scan your Mac using anti-virus software program
Scanning your Mac system for any virus or malware can help you solve many issues arising in your computer. You should always use a reliable anti-virus software program to do so when choosing any out of your built-in program. Also, always be careful while you download any file from web and before you do so, you should always assure yourself that the concerned site or file is trustworthy and safe.
Method 2: Try to convert the video file to format supported by QuickTime
As stated above QuickTime player supports some specific file formats only, so do check whether the format of your video file is in line with the supported ones or not. If not, then try to covert the format to supported one using any reliable software program for purpose. Before you change the format or change the file extension, you are recommended to keep a backup or copy of the video file before you make any changes to it. Many of the users have experimented by changing extensions of their video files to MOV, M4V, 3GP which has worked for them.
Method 3: Try to convert the video file to format supported by QuickTime
It is always recommended that you should regularly check and update the system and apps & programs for their smooth and uninterrupted function. So try to do this and check if you are able to play your video file.
Note: Apple no more supports QuickTime 7 for Windows. 32-bit applications are supported up-till Mac OS Mojave version only after which Catalina version supports 64-bit applications. Mac OS X Snow Leopard supports QuickTime Player X.
Method 4: Try to download video codec supported by QuickTime
When QuickTime does not support the Video codec then it will not play the video but only audio and if it does not support audio codec then it will not play audio and video. So you are recommended to download concerned and required codec from official site try again to play the video file in QuickTime.
Method 5: Try to use another media player
You can try to run videos on VLC player, DivX player, GOM player etc. This may help you.
Method 6: Use an alternative to QuickTime
You can use Recoveryfix video repair tool to repair your QuickTime videos irrespective of type of error and extent and reasons of its corruption. It is the easiest and safest way to repair your video files. You can also repair video files of almost any format and recover your video files from any camera device while retaining all original properties.

Conclusion:
The best thing about choosing this video repair tool is that it provides solution to all kinds of issues arising in your video files ranging from blurred, flickering, broken, non-synchronized video files and many other issues irrespective of their format and source of video file.
Related Posts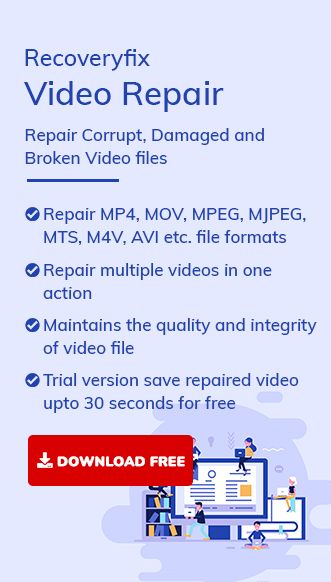 Browse by Category