Introduction
Exchange Server recovery is the crucial job responsibility of an Exchange Administrator. Modern versions of Exchange Server have several features that protect them from external threats. But the threats have become severe, and hackers are exploiting many vulnerabilities of Exchange regularly.
On March 2nd, 2021, Microsoft Threat Intelligent Center reported that certain hacker groups had gained stealth entry into thousands of Exchange Server accounts by breaching Microsoft's code. The issue was resolved quickly through security updates, but there are many possibilities that such an attack can happen in the future also. There are the following conditions that will happen when a breach occurs in Exchange-
Data stealing
Malware formation in the system
Corporate emails reading
Remote code running
Server hijacking
Backdoor entry to multiple Exchange accounts
The inbuilt ESEUITL tool cannot save you from such attacks, and only professional software can recover Exchange database. When you fight corruption or ransomware in your environment, you should use professional software. Recoveryfix for Exchange Recovery is the perfect answer to all the recovery-related needs. Once in a while, a storage shortage in the secondary server causes the exchange database stuck in disconnected and to resolve this software is programmed to recover such issues.

The software can repair highly corrupted, inaccessible database files of any version of Exchange Server. Later, it can save the mailbox items into various output file formats and migrate to live Exchange, Outlook profile, and Exchange Online.
Recoveryfix for Exchange Server gives you the freedom to connect with an Offline EDB file and other sources like Live Exchange (on-premises), Office 365 (Exchange Online), and Outlook profile. The Outlook profile can belong to any kind of mail server like IMAP, POP3, Domino, Gmail, GroupWise, Office 365, and Exchange.
Advanced features of Recoveryfix for Exchange Server
There are several stages to recover the Exchange database using Recoveryfix for Exchange Server, and each stage has some advanced features that help to recover Exchange database without further complexities.
Scans large EDB files quickly
The tool does not take much time to scan the corrupt EDB file. It scans one file at a time and recovers all mailboxes in their actual order. To recover the Exchange database from any type of corruption, the software shows two types of scanning methods – Standard and Deep Scan. The standard scan is fast, and you should use it first. If it does not recover the data, then go for the Deep scan, and it will check the EDB file again.

Each mailbox will be recovered with its complete folders like calendar, contacts, deleted items, drafts, inbox, journal, notes, outbox, sent items, tasks, etc.

Migrates Office 365 and live Exchange to different destinations
By using the basic account details like Exchange Server name/IP address and mailbox name, you can connect your live Exchange Server with the software and migrate data to various destinations. There are separate options to connect single mailbox, multiple mailboxes, public folders, and archive mailboxes.
To migrate Exchange Online mailboxes from Office 365, the software will require the User ID of the Global Administrator, server name, and password. There are ample helpful options in the login wizards to add mailboxes for migration. So, Recoveryfix for Exchange increases its usefulness beyond exchange recovery. The data can be migrated to Exchange and offline PST files too.
Exceptional Preview option for repaired items
To assure the user that the software has repaired the database completely and successfully, it lets you check the preview of the items. All the items like emails, contacts, calendars, notes, etc., are available for preview when you recover the Exchange database with assistance from Recoveryfix for Exchange.

The preview facility is available for all sources like Exchange, Outlook profile, and Office 365 too.

Conversion from EDB to PST
This feature converts the EDB file mailboxes to PST directly after repairing the file. You can choose to export the whole mailbox or a folder to PST, and a special wizard will come up with all the selection and filtering options. Then, you can save the PST file at any folder location too.
Split PST files after a specific size
To recover Exchange database effectively, an advanced option in the software will divide the EDB file data into many PST files smartly. You can choose a size limit, and the PST file will divide once it reaches that limit. The mailboxes will be divided logically.
Deep searches
After recovering the Exchange database, you can search for the mailbox items. The search is based on the properties of email, and there are several filters to select the required items without any error or data overlook.
Multiple output formats for quick saving
The final step to recovering the Exchange database is to save the recovered items into a suitable file format. The software solves such requirements by providing a decent number of file formats like PST, MSG, EML, HTML, RTF, and TXT.

All the formats are available to save the mailbox items, and you can save them in a folder on the computer.

There are more features that make Recoveryfix for Exchange an excellent choice when you are searching for EDB corruption remedies. To recover the Exchange database using our software, you can download a trial version and recover 25 items per folder from it. After purchasing the license, you will get 24*7 technical assistance from the technical team.

Users can check out ways to recover exchange error content index states failed and suspended using this tool.
Related Posts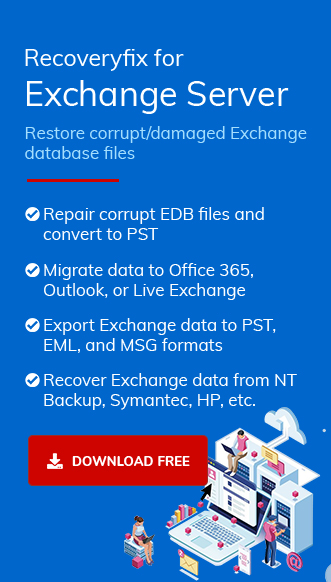 Browse by Category