Kodi is the vital platform to play your audio and videos seamlessly. We see many videos in Kodi with just a single click. At times, we face that our video has no sound, which is Kodi's most irritating issue. This article will guide you on How to fix your Kodi has no sound on videos issue.
Why do you face Kodi has no sound on videos?
There are various reasons for Kodi has no sound. Here are some of the problems listed below:
Inappropriate Kodi Audio Setting: Kodi has a separate audio setting, and when you select the wrong audio setting in Kodi. Then you face Kodi has no sound issues in Kodi.
Outdated Kodi Software Version: Out-of-date versions cannot play your video easily. Kodi developers always provide some updates to their software to revoke every bug from that software.
Hardware Issue: It is a primary problem of Kodi having no sound. Your audio cables and connecting ports may be damaged, so you cannot play your video with audio.
Missing Audio Drivers: The Computer removes some driver files due to viruses; for that reason, you face Kodi has no sound issue.
How to Fix Kodi Has No Sound Issue
Here are some of the major solutions that will help you to fix your Kodi has no sound issue:
Solution 1. Change Kodi Audio Setting
Default your Kodi audio setting to fix your Kodi has no sound issue with these steps:
Download Kodi from its official website and Install it on your Computer.
Launch Kodi and Click on the Setting Icon.
After clicking the setting Icon, you will see many options. Now, find the System option and click on it.
Go to the Audio section and Click "Reset above settings to default."
After changing your Audio setting to Default. Click on Standard to change Expert mode in Kodi. Relaunch your Kodi Software and enjoy your video.
Solution 2. Update Kodi Software
Update your Kodi software to remove earlier bugs in your Kodi Software with these steps:
Uninstall the previous version of Kodi software from your computer. Go to the Window search option and Search Control panel.
Click on the Programs and Features section.
Find Kodi software in the list and double-click on it. You will see Uninstall option and click on it.
Download the newest version of Kodi by selecting the software preference according to your system and install it. Go to the Kodi official website to check if the latest version of that software is available.
Solution 3. Check out the Hardware of your Computer
Check out your Hardware and ensure all your Audio cables are placed in your computers properly.
Suppose you see dust in your Connecting ports. Clean them, replace your old Audio cables with new ones, and Insert them into your Computer.
Solution 4. Update Audio Drivers
Missing data from computers can lead to errors of cannot play a video on Kodi.
Go to the Control panel on your computer. Find the Device Manager and Click on it.
Click on Audio inputs and Outputs, and you will see two options.
Right-click on Speakers (High-Definition Audio Device), and you will see Update Driver Software. Click on it.
Click on Search automatically for updated driver software. Your computer will download the Updated version of Kodi automatically.
Solution 5. Tool to Recover Corruption in Videos
If previous solutions will not help you fix your Kodi has no sound videos issue, your video might have corruption. Occasionally when you send your file from one destination to another, and suddenly your device shuts down, your video gets corrupted. Recoveryfix video repair will help you to recover your video's corruption.

Here is the brief step by step process of Recoveryfix Video Repair fixing Kodi has no sound on videos issue:
Download the Recoveryfix video repair tool and Install it on your Computer.
After installing the software, Launch it and check out the interface of the Recoveryfix video repair tool. Click on Add File(s) section to add your corrupted videos for recovery.
Select your corrupted videos from your Computer and then Click on the Open section.
You will see that your selected videos are in the Repairing queue. Click on Repair Files.
After clicking Repair Files, a new pop-up for Selecting your Destination will appear on your screen. Click on OK to save your recovered file.
Your video has been recovered successfully. Click on Close and go to your Destination. After that, play your video with a Kodi player and watch your video flawlessly.
Conclusion
You are suffering from Kodi having no sound on Videos issue, but now these solutions will help you to fix your issue. Repair any video format in the minimum steps of Recoveryfix video repair. After that, enjoy your recovered videos in the Kodi player.
Related Posts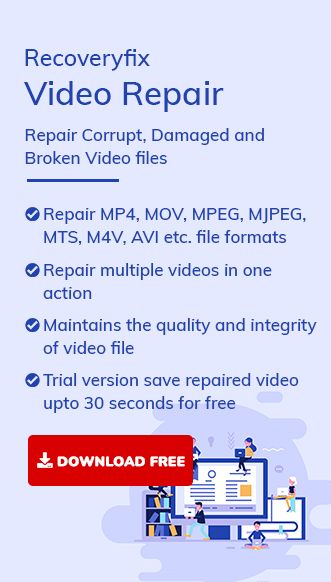 Browse by Category