The error of the video still processing in Google Drive is common. Remember that video processing can take time, especially for larger files or peak usage periods, so keep patience. But if the problem exists for an extended period or with multiple videos, it's best to seek further assistance from Google Support.
There is no need to take pressure; we are here to help to solve this error. In this article, various reasons & solutions will be discussed in detail to resolve the "Video is still processing in Google Drive."
How much time does it take for Google Drive to process a video?
Google Drive is a wonderful platform for uploading, storing, and sharing video files, but it needs time to process large video files before they become fully available for playback. Video processing time depends on the video's resolution, format, size, codec, Google server's speed, and internet bandwidth. If you've recently uploaded the video, give it some time and check back again to see if it has finished processing.
What are the reasons for the 'Video is still processing error'?
A poor internet connection.
The video upload failed.
The size of the video file is too large.
Using an outdated browser version.
Corrupted or damaged browser cache.
An incomplete uploaded video on Google Drive.
How to fix 'Video is still processing in Google Drive' error?
There are many methods to fix the video error "Video is still processing in Google Drive," including manual and automated methods. Let us discuss all the detail-
Check your internet connection
Ensure to have a stable and reliable internet connection. A slow or intermittent connection can cause issues with video processing. If the connection is unstable, consider uploading the video again with a better internet connection.
Check the video format
Google Drive supports many video formats, but some may not be compatible with the video processing system. Ensure your video is in MP4, AVI, MOV, or WMV format. If your video is unsupported, convert it to a compatible format using a video conversion tool.
Update the browser
Browser issues can be a reason for poor website performance. Most of the time, updating the browser to its latest version resolves minor bugs and errors, including slow processing of online sites. The steps to update your browser may vary depending on your browser; here we demonstrate how to update Chrome:

In the Chrome browser, then click the three-dot menu icon in the upper right corner. Opt for the Help option and select About Google Chrome.
The browser will automatically start to check the status of the browser, whether it has an updated version or not. If not, then it will automatically start downloading.
When the latest version of Chrome is installed, you must click on the Relaunch option, and Chrome will restart.
Then log in to Google Drive again and check for an error in video processing.

Clear browser cache data
Sometimes, cached data in your web browser can interfere with the processing of videos in Google Drive. Clearing the browser cache can help in resolving such issues. Go to your browser's settings, find the option to remove browsing data, and clear the cache. Then try reassessing Google Drive and check if the video processing error persists.

In Chrome, click the three-dot menu icon in the upper right corner. Then from the drop-down list, select More Tools and Clear browsing data.
Move to the Basic tab, select All time for the time range, and check Cookies, other site data, and Cached images and files. Click on Clear data.
Now restart the Chrome browser and check if the problem exists.

Try a different browser or device
Sometimes, the issue may be only specific to the browser or device. Try accessing Google Drive and the video in question using a different web browser or device to see if that resolves the problem.
Contact Google Support
If none of the above-mentioned have worked for you, then you must immediately contact Google Support for assistance. They can help provide specific guidance and troubleshooting steps tailored to your situation.
Professional video repair
If the above methods don't work or you don't want to take a risk, we suggest you use a trusted and professional solution to solve this error. We highly suggest the most reliable Recoveryfix Video Repair, which experts recommend. This tool can repair every format's corrupt and broken video files, including MP4, MOV, MTS, WEBM, ASF, WMV, M4V, M4A, AVI, AVCHD, FLV, 3G2, 3GP, F4V, etc. and generates 100% result.

Final words
In this blog, we discussed the reasons and solutions to resolve the processing of videos in Google Drive while trying to play them. If none of the manual methods work, we have introduced one of the best Recoveryfix Video Repair software to repair videos with corruption or damage. Through this software, you can fix problems like stuttering, blurring and streaming videos, etc. It is easy to operate.
Related Posts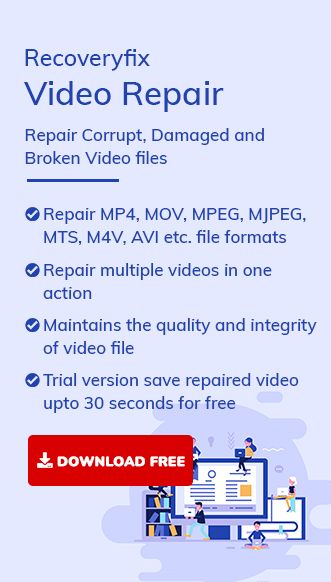 Browse by Category