Exchange Databases are designed to store the mailbox data of the Exchange Server. And this Exchange database is stored as an EDB file. Sometimes EDB files become inaccessible due to server crashes, hardware failures, and much more. To restore or recover an Exchange Server database, different Exchange recovery solutions are available. Using a third-party Exchange Database Recovery tool is the most effective way to recover the data when the Exchange database gets damaged or when the server fails.
Quick tips to keep the EDB data safe and corruption-free
Always try to use standard hardware products and maintain their quality to avoid hardware failures, which will affect the database.
Keep checking the functioning of the Exchange Server to see if it is proper. Ensure its periodic maintenance and updates.
For data safety, always have an updated version of anti-virus software, which reduces the chances of virus attacks and keeps your EDB file safe and secure. Using an updated version eases the chances of failure such as mailbox export request stuck in queued issue in Exchange.
Always try to back up your database regularly without any negligence to avoid the loss of essential data. If you lose your data, your backup always keeps your important data safe.
Always keep checking that you have enough space on your hard drive where all EDB files are stored.
During the installation of the Exchange Server, try to keep this process under expert guidance to avoid any failure during the installation.
It is suggested to have a professional tool to recover corrupt EDB files. Try Recoveryfix for the Exchange Server for the recovery process.
Situations responsible for EDB corruption
Let us get into the situations responsible for EDB corruption:
Bad sectors on the hard drive
Due to hardware failure, the Exchange database may become inaccessible. Bad sectors represent the damage caused due to motherboard failure, overheating, virus attacks, and a lot more. Such issues lead to data loss and file corruption.
Corrupt database files
Transferring data from unknown sources also corrupts data and directly affects the Exchange database files, making the data inaccessible.
Exchange Server failure or shut down
The unexpected shutdown of the Exchange also affects the access to EDB files.
Virus attacks
Virus intrusions lead to file corruption making its data inaccessible. Virus attacks also lead to hardware failure and adversely affect the database.
Software failure
Sometimes, the installation of third-party tools affects the functioning of regular software, causing issues that might also affect BIOS. Quite often, software failure or any other mishappening will cause corruption in the EDB.
Exchange Database Recovery from Corrupt EDB Files
As I discussed earlier, the only effective way to recover corrupt EDB is by using a professional Exchange database recovery tool. However, you can try inbuilt tools by Microsoft Exchange, i.e., Eseutil and Isinteg. EseUtil is Microsoft's tool designed to ensure that a database is performing well.
Firstly, go to the Command text box using the Window + R key.
Firstly navigate the location of the Eseutil utility

C:\Program Files\Microsoft\Exchange Server\Vxx\Mailbox\

Now, enter the Eseutil in the cmd.
Again, enter the following command line to recover the database

Eseutil/p C:\Program Files\Exchsvr\mdbdata\Exchangedatbase.edb

After the recovery process, run the following command,

Eseutil/d C:\Program Files\Exchsvr\mdbdata\Exchangedatbase.edb

Here at the same place, run the Isinteg.exe command to check the integrity

Syntax- isinteg -pri|-pub [-fix] [-detailed] [-verbose] [-l logfilename] -test testname[[, testname]…]
Note: When Exchange Server is installed, the database location is created by default at C:\Program Files\Microsoft\Exchange Server\Vxx\Mailbox\ Here, Vxx signifies the Exchange version.
The above-discussed ESEUTIL process may fail and may even cause more data loss. Try to perform the above process under expert guidance to avoid any kind of mistakes because a single mistake can destroy the database. Hence to avoid such situations, use Recoveryfix for Exchange Recovery for a hassle-free Exchange database recovery process.

Advanced Exchange Database Recovery Tool
Recovering mailboxes from corrupt EDB files using a professional Exchange recovery tool is the best way to get back the lost Exchange data. It is known for recovering corrupt and deleted mailbox items and attachments. After complete recovery, it creates separate Outlook PST files for each mailbox. With the support of this tool, users can directly migrate the mailbox items to Office 365, Outlook profile, or live Exchange. The migration process takes place with the complete retention of data integrity and hierarchy. Users can instantly access the data from the destination after the migration. Even with this tool, users can recover mailbox database in Exchange server 2016 and support all different versions of Exchange Server.
End Note
The above-discussed solution is designed to recover exchange server mailboxes from corrupt EDB files. To get rid of such annoying processes, start using Recoveryfix for Exchange Server, which allows the user to export Exchange EDB mailboxes to PST files. Using this tool, users can even perform Exchange mailbox migration, Office 365 migration, and public folder migration.
Related Posts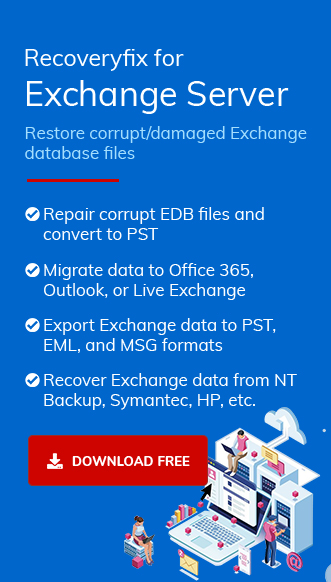 Browse by Category