Technology changes daily, and it comes with advanced features every time. One of the breakthroughs was the introduction of Android phones, which have made things simple. They help to capture images and videos which cover our special memories and events. We can view as well as share them with others. But sometimes, users face problems when the Android videos are not playing on a Windows system. It can be problematic since they contain essential information and core memories. Please do not panic; we will help you, discuss their reasons, and provide you with the best solution.
Why are Android Videos not playing on Windows System?
Incomplete video download.
Outdated media player.
Corrupted video.
Corrupt mobile SD card.
Virus attack.
Drivers are not updated.
Windows operating system is not updated.
Codec issue occurs.
The video is not playing on any player due to an incomplete transfer.
Methods to Solve Android Videos Not Playing on Windows Systems
Sometimes, transferring these videos to a Windows system causes unexpected technical errors. Some of the relevant solutions are mentioned below.
Update your media player
It is a common error when the media player is outdated, and that's why it is unable to play every video. Hence the user must update the media player immediately to avoid such errors. Outdated players may not have the necessary codecs to play the latest video formats.
Install video codecs
Sometimes, video files may use codecs that your media player does not support. In such cases, you can install additional video codecs like K-Lite Codec Pack or VLC media player, which offer a wide range of codecs.
Check file format compatibility
Confirm that your media player supports the video file format. Most media players support standard video formats like MP4, AVI, and MKV. If the video is uncommon, convert it to a more widely compatible format.
Try a different media player
If your current media player fails to play the Android video, try using an alternative player like the VLC. This will make it clear if the problem lies in the media player or the video itself.
Update graphics drivers
Outdated or incompatible graphics drivers can sometimes cause issues with video playback. Update your graphics drivers to their latest available version.
Update Outdated Windows Drivers
The outdated Windows drivers will automatically limit the functions of many applications, including the media player. Updating drivers is a simple process that does not require any technical knowledge, follow these given steps-

Press the Windows key +X on your system, and a list will appear. Click on Device Manager.
Then find drivers with an exclamation mark in front of them and right-click on them to get the Update option.
The issue resolves after updating the Windows drivers.

Check system resources
Insufficient system resources, such as low RAM or CPU usage, can lead to video playback problems. Close all the other applications running in the background, and try playing the video again.
Scan for malware
Malware or viruses on your Windows system can interfere with various functions, including video playback. Run a thorough scan using reliable antivirus software to ensure your system is clean.
Try playing the video on a different device
If none of the above methods have worked, try playing the video on another device to confirm if the issue is specific to your Windows.
Final Note
We hope the above article helps to solve your problem 'Android video is not playing on Windows.' Some potential manual methods are provided, which are time-consuming, so if you are in a hurry, we highly suggest you opt for a professional solution, i.e., Recoveryfix Video Repair. It can repair video files of any format containing even the highest level of corruption in the file. It maintains the original structure and format. It is easy to handle; no technical expertise is required to run this software. You can completely rely on the best result of this tool.

Related Posts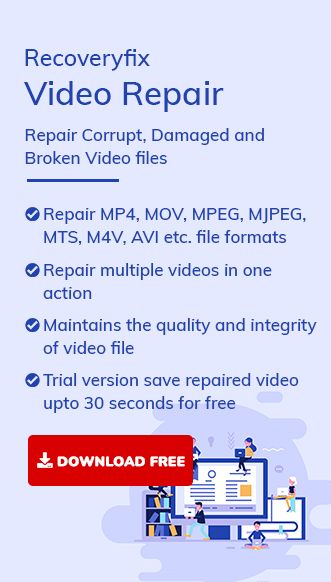 Browse by Category