Windows Media Player is an original media player that comes with Windows. It's the default media player of Windows with significant access to play any format in just one click. It is bug-free, but occasionally when you try to play some files, it will pop up an error message saying, "Windows Media Player error server execution failed." This error will ruin your watching experience on this player.
Resolving the issue of "Windows media player server execution failed" is simple, and here, we provide the top 8 solutions to eliminate this problem.
Solution 1: Dismiss Windows Media Player in the Task Manager
Somehow Windows Media Player did not respond to your video files. Try to dismiss WMP and reboot it to execute your video file to fix the WMP error server execution failed.
Launch Task Manager on your computer by pressing Ctrl + Shift + Esc.
Find Windows Media Player and right-click on it.
Click on End task and Restart WMV with your video file.
Solution 2: Turn off the antivirus temporarily
Antiviruses are the primary things that will encrypt and save your computer from malware data and viruses. Some video files have inbuilt external data, and antivirus stops them from playing.
Turn off the antivirus for some time and replay your video file in WMP; if that video is still not playing, then exclude WMP from the antivirus and play that video again. This method might work to fix "service execution failed."
Solution 3: Update Computer's Window
When you do not install the full version of Windows, you might face a "server execution failed" error while playing any video in WMP. Accordingly, update your Windows to the latest version and fix that issue.
Solution 4: Reinstall Windows Media Player
Occasionally WMP gets corrupted due to some viruses and malware data, so uninstall the WMP and install its latest version to watch a video smoothly.
Press Windows + X key simultaneously to launch the Menu on your device screen.
Click on Programs and Features.
Find Windows Media Player and left-click on it.
Click on Uninstall and give your consent to Uninstall WMP.
Install Windows Media Player from the Store and enjoy your video.
Solution 5: Turn off the Windows Media Player network-sharing service
Enabled WMB network sharing service can be another reason to face "Windows Media Player error service execution failed." Disable network sharing service to fix the issue.
Press Window + R key to open the Run section.
Type 'services.msc' and press OK to open the Services (Local) section.
Go to the Windows Media Player Network Sharing Service and left-click on it.
Click on Stop.
After that, click on Properties to open the Pop-up.
In the General section, Go to Startup type and choose Disable. After that, click on OK.
Solution 6: Operate Windows Media Player Troubleshooter
Run the troubleshooting for the Windows Media Player to know the issue you are facing; the "server execution failed." Troubleshooter may fix all WPM issues and give you an error-free watching experience.
Press Windows + I key to open Setting.
Click on System.
Find Troubleshoot and click on it.
Scroll down to Video Playback and right-click on it. After that, click on Run the Troubleshooter
Solution 7: Start the Computer in Clean boot
Some third-party apps can sometimes interrupt the WMP to play a video. So, start your computer in clean boot to fix the "Windows Media Player error server execution failed."
Press Windows + R, type 'msconfig' in the command box, and click OK.
In the General section, Click the Selective startup option and uncheck the Load startup items.
Proceed to the Services tab and click on Hide all Microsoft services. After that, click on Disable all section.
Proceed to the Startup section and click on Open Task Manager.
Disable every app from the task manager in the Startup section.
Restart your computer.
Try to open a media file in the WMP.
Again, Press Windows + R and type msconfig.
In the General tab, Click on Normal Startup and give your consent by tapping on OK.
Restart your computer again and enjoy your videos on WMP.
Solution 8: Repair the corrupted video
Videos get corrupted for several reasons and are hard to play on any device. If your video is corrupted, your WMP cannot play it. Corruption is deadly for your video; it negatively impacts and ruins your data.
To repair your corrupted video, use third-party software like Recoveryfix video repair to eliminate every corruption from your video. This tool helps recover every video format and multi videos simultaneously.

Conclusion
Whenever you get the trouble of "server execution failed" in your Windows Media Player, try the above methods to fix that problem. If somehow your video is severely corrupted, then repair it by using a third-party video repair tool.
Related Posts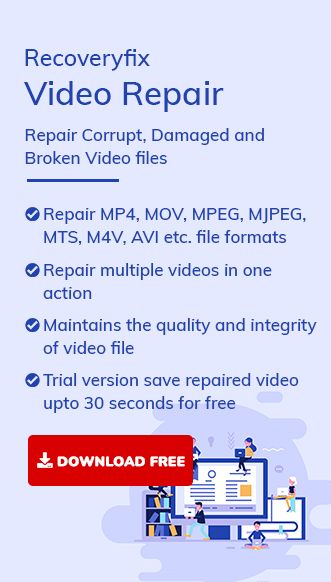 Browse by Category