How to Repair a Corrupt AVI Video File?
"I am a Windows user and when I am trying to play an AVI file on my system, I am getting an error notification stating that the video I am trying to play cannot be opened because it is corrupt or damaged. I just cannot understand how it got corrupt and how I can fix it. It is very important for me, my whole presentation is directly dependent on this video file. Please suggest the best way out of it, I am ready to do whatever it takes. Thanks"
Corruption in a video file is a regular affair, and we all must have faced corruption in video files at some point in time. But the corruption in AVI files is different from the other video file formats. This is so because the problem in AVI files is generally related to the index in most of the cases. Such type of issue can be easily fixed, but for severe corruption we would try a different approach.
Recommended Solution
The AVI file is not recoverable when the content of the video file is missing.
Recoveryfix Video Repair
even the missing parts of video and protects the integrity of the whole file and its properties.
So, are you also facing the error "Windows Media Player encountered a problem while playing the file" or any other error like this? In this blog, we are going to discuss the reasons for the corruption in an AVI video file. Further we will discuss the solutions for the same.
Reasons of Corruption in AVI Video File
Getting the reason behind the corruption means you can avoid those practices in future. So, let's discuss what all those reasons are:
Sudden power failure
Bad sectors on a hard drive
Electromagnetic interference
Incomplete download
Improper transfer of files
Glitch in Torrent
Virus or malware attacks
Technical glitches during the video making
So, these were some of the most known reasons behind the AVI video file corruption. So, if you think that there was some fault during downloading or transferring the file, you can anytime do it again from the source and check if that solves your issue. If that was not the issue, then keep reading the blog.
How to Fix Corrupt AVI Video File
Let's now discuss the approaches we can try to fix the corruption in these files.
Try VLC Media Player
When it comes to minor corruption, you can get results with VLC Media Player. VLC Media Player is a popular media player program, not just because it plays the video and audio, but also because it comes with many other advanced features. Such a feature is its power to fix corrupt videos. Although it cannot fix severe levels of corruption (we will talk about severe corruption in the next solution), it can still be helpful in the case of minor corruption. Let's see how to fix corruption with VLC Media Player.
Run VLC Media Player on your system and click on the Tools option from the toolbar.
From the Tools' menu, select Preferences.
As the new window shows up, click on the Input / Codecs category, and go to the Files section.
In the Files section, look for Damaged or incomplete AVI file and from the drop-down box near to that select Always Fix.
Once done, click on the Save button.
After all of the steps are completed, you can try playing video files with VLC. If you want to open and run that file on some other video player, it won't work, because VLC just saves the new index in the app's memory. It means it doesn't actually fix the corruption, it just makes it playable in VLC only. If this is not what you were looking for, then next solution is going to be your favorite approach.
Fix with Recoveryfix Video Repair
If you are looking for a time-saving and effective way of repairing the corrupt AVI file, then try the Recoveryfix Video Repair tool. It is an automated video repair tool that repairs video files irrespective of corruption level or file size limitation. No matter if you want to repair one or multiple video files, it can process them in one go. Even if you are having a large video file, you can repair it with this tool in no time without any lag or system slow down. Now, let's have a look at the working of the tool.

First, download and launch the tool safely on your system.
Now in the home screen, click on the Add File(s) option to add the AVI file(s).

Now add the single or multiple files from the location where they are saved on your system. Select the file(s) and click on Open to add them finally.

In the next step, check all your selections and click on the Repair Files option to proceed.


Note: You can remove the unwanted selections by clicking on the Remove option. You can remove all of them at once by clicking on the Remove All option.

Now, it is the time to provide a destination to the newly repaired AVI video files. For this, browse the destination (on your system or an external drive) and click on OK to finish.

The tool will start repairing all the files and you will get the live updates of repair in progress. Once the process is over, click on OK to finish the process.

You can also click on the Save Report to CSV option to save the CSV report of the work done. A sample of the CSV report is added below.
Once you follow all of the steps mentioned above successfully, you will get the repaired AVI video files saved at your selected destination.
Conclusion
In this blog we discussed corruption in AVI video files and mentioned what may lead to it. We also tried to provide the best suitable solutions to fix corruption in AVI video files. We mentioned a few manual ways for those who are looking for free methods. But for those who were looking for an instant, time-saving and result-oriented solution, we recommended using Recoveryfix Video Repair tool, with which you can also repair corrupt MP4 video files. We also have mentioned the step by step guide to use the tool and discussed some of its unique features. For a better insight, try the trial version of the tool and save up to 30 seconds of the video file for free.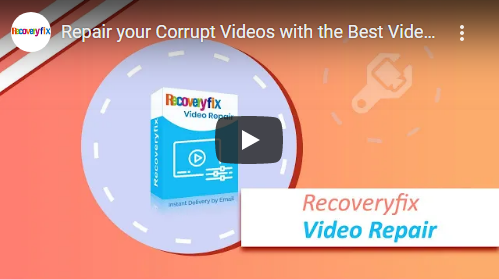 Related Posts
Browse by Category