Microsoft Outlook is the most popular email application available nowadays. With proper configuration and settings in place, synchronization of the Outlook mailbox and the server mailbox is an in-built feature of Microsoft Outlook. However, Users sometimes face issues and errors, like Outlook Not Syncing Error in Windows 10. In this article, we will cover various solutions to overcome this situation.
Outlook Not Syncing Error in Windows 10
When you make changes like edit, delete, send, or receive an email in Microsoft Outlook, the changes will automatically be updated in the Microsoft Exchange Server or web server mailbox. Sometimes, this process might get interrupted, and your Outlook may fail to sync emails successfully. Due to large Outlook data files, syncing can stop in Outlook. It will depend on your email account settings and other reasons too.
Methods to Resolve the Outlook Not Syncing Error
If you are facing this problem, don't be afraid, this error is easy to solve; follow the methods described here. You can try the general troubleshooting solutions in Windows 10. Before starting, ensure your device has the latest updates. If this doesn't work, go for the methods we will provide here.
1st Method: – Change Profile Settings To Sync Outlook
Open Outlook.
In File, select Account Settings > Account Settings.
After completion, click on the Email tab > Mailbox and then on the account name, and click on the Change option.
Ensure that the box next to Use Cached Exchange Mode is selected, and then click OK.
To save all the changes, click on Close and exit the Account Settings window.
Close and reopen Outlook.
In case you find your Outlook profile is corrupt, you might have to repair your Outlook profile.
2nd Method: Ensure connectivity
MS Outlook may be unable to work correctly if your network connection is poor. That's why the Outlook not syncing error appears when you send or receive an email. Ensure that you have good network connectivity.
3rd Method: Repair MS Outlook Profile
If your MS Outlook profile has some problem, then the Outlook Not Syncing error may occur. In this situation, you can try to repair your email account through the mentioned steps.
Open the MS Outlook app and select the File.
Click on Account Settings > Account Settings.
Then select the email account and click on Repair.
Check all the details and choose Next.
Start MS Outlook again and see if the issue solves or not.
4th Method: Remove Outlook Add-Ins
Faulty or incompatible add-ins might cause the Outlook not syncing error. You can try disabling the Outlook add-ins
Launch Microsoft Outlook.
Select File > Info > Options.
In the options column, click on Add-ins.
Next, go to Manage and select COM Add-ins under the other options. Then, click the 'GO' button.
Once you have removed the add-ins, restart MS Outlook.
5th Method: Repair MS Office
Sometimes, the Outlook not syncing error occurs due to issues with the installation of MS Office. In this case, you can resolve the mistake by repairing your MS Office program.
Go to Control Panel.
Go to Programs & Features from the list.
Then select MS Office from the list and click Change/Repair.
For repairing the MS Office application, follow the on-screen instructions.
Conclusion
If these methods don't work, we recommend you use the professional tool Recoveryfix for Outlook PST Repair; you get a healthy PST file through this tool. When this process is complete, your Outlook will work properly without any Outlook sync error. This tool supports all Windows and MS Outlook versions too.

Related Posts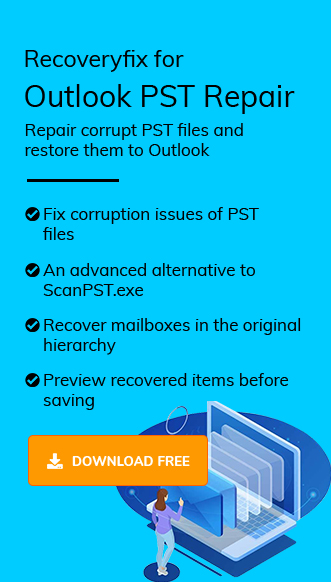 Browse by Category