Video is an essential part of daily life. Nowadays, videos are used for many purposes like entertainment, learning, awareness, etc. And now, videos can be saved in various file formats, like FLV, MKV, MOV, and AVI.
MP4 is the most used file format for saving media data; it is a digital multimedia file format to store video, audio, and still images. It also allows streaming over the internet in all qualities like 4K, HD, etc.
Like other file formats, MP4 videos can also get damaged and corrupted, possibly for many reasons. A common MP4 issue is not having sound while playing the video files. Sometimes the user plays an MP4 video, and no sound is coming for some reason. That situation is very irritating.
Reasons for the "MP4 File has No Sound" Issue
Let us discuss some of the reasons responsible for the "MP4 File has No Sound" issue.
External speakers are not correctly set
Virus infections
An unexpected loss of power while copying video from one storage media to another.
An error while converting video files into other multimedia formats using unreliable converters
Outdated sound driver
Audio driver installation issues
Incorrect sound settings
Sound card problems
Outdated web browser
Corrupted media player
Corrupted MP4 video file
Faulty or missing audio codec
Downloading errors
Physical damages
Sudden system shutdowns
Don't be afraid if you are going through this kind of problems. Here we have explained all the tactics to solve the "MP4 File has No Sound" issue.
Let us discuss them one by one.
Tactic 1 – Check the sound settings
Your video's sound isn't working because the audio may be off on the video player. If yes, click the audio unlock icon and slide it to the desired volume level.
Tactic 2 – Update your web browser
You can also test the audio using web browsers like Chrome, Safari, Firefox, etc. Check if there is any update for your web browser. Updating your browser may be a solution for fixing the audio issue.
Tactic 3 – Play the MP4 file on VLC Media Player
VLC is one of the most efficient media players and helps you fix minor corruption issues in the file. Through the steps given below, you can open your MP4 file with a VLC media player:
Select the MP4 file, which has no sound.
Right-click on the file, select Open with and then click VLC Media Player.

In this way, you can try other media players as well.
Tactic 4- Convert the MP4 file into another video format
Converting video file format is an excellent way to overcome the "MP4 has no sound" error. You may use VLC Media Player to perform the conversion.
Open VLC Media Player and click the Media option.
Select the Convert/Save option from the list and add the MP4 video file you want to convert.
Once the file adds, select the Convert option from the dropdown list.
Select an output format to which you want to convert the file.
Then click Browse and choose the destination folder for saving the file.
Give a new name for the file.
Now press Start to begin the conversion process.
Now try playing the converted video file. It will play smoothly.
Conclusion
We went through all the tactics for solving the sound issue with MP4 files. The above discussion of the "MP4 File has No Sound" error will help you get rid of this problem. If the manual ways to fix the MP4 video error don't work, then the MP4 video file may be corrupt. You can take help from Recoveryfix Video Repair to repair your MP4 file. Using this tool, you can fix your corrupt or inaccessible video files of every format. If you have multiple corrupt video files, you can repair them all simultaneously without affecting their original quality, so try this method. Good Luck!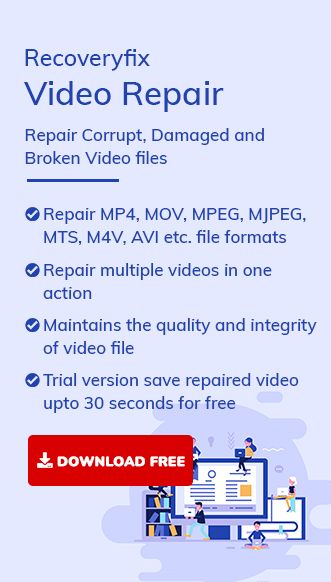 Related Posts
Browse by Category