If you are facing a problem where your MP4/WMV/MOV files are attacked by STOP/DJVU ransomware, don't worry; this article will help you. This is a common issue where users don't know how to overcome this situation and repair the ransomware-affected videos. This article provides the best and time-saving solutions which give valuable information to save your system.
What is STOP/DJVU Ransomware?
STOP/DJVU ransomware is a file encryption Trojan malware. It inserts on your computer, blocks and encrypts all your files, making them inaccessible. The attackers ask you for ransom money to decrypt your files and make them accessible again.
A virus encrypts your data files, spreads through spam emails, and can attack various computers, including Windows PCs. It can affect your system by encrypting your PC and damaging its existing files, including documents, audio, videos, images, etc., and all such files become inaccessible. This could be due to multiple factors, including downloading applications from a shady source, spam email campaigns, suspicious links, etc.
Major reasons behind a STOP/DJVU Ransomware attack
Third-party application.
Fake or duplicate software update.
Malicious programs like Trojans.
Spam Email.
Used hard drives.
An application download from an untrustworthy source.
Ransomware attacks can instantly corrupt MP4, WMV, MOV, and other files, making them inaccessible. However, if you want to decrypt your video files, you can check out various tools and decryptors which are easily available. Further, we will dig deeper into how to repair the encrypted video due to STOP/DJVU Ransomware.
What are the Symptoms of a ransomware infection?
Suspicious file system activity, such as numerous failed file notifications.
It heightens the CPU activity and disk usage for no apparent reason.
Revoked access to specific files which you were able to access earlier.
How to repair STOP/DJVU affected MP4/MOV/ WMV video files?
Isolate the Infected device

Disconnect from the Internet: – Don't allow external devices to connect to your computer. Ensure that the cable is unplugged and the electrical cord is also disconnected. Also, you need to disconnect the system from all electronic applications.
Remove External Connected Devices: – Ransomware can quickly spread to all storage devices directly linked to the infected machine. So, all those should be safely removed immediately, including USB flash drives, hard drives, and external hard drives.
Log out from the Cloud storage: – The ransomware may encrypt your files and erase all the data on your hard drive. So it is advised to immediately turn off your PC and log out of any cloud storage accounts that are connected to it. You must uninstall all the recently downloaded software till you sort out the mess created by STOP/DJVU virus.

Create Shadow Copies of Files: – The ransomware erases the shadow copies of your data. With the help of multiple tools, you can get a shadow copy of the encrypted data.
Windows Recovery Tool: – When video files are affected by a ransomware attack, then try the following steps:

Open your original file.
Encrypt the data in your file and save it in a new file.
Then, delete the original file.
The deleted file may be available on the attacked system or cloud platform. You can recover your precious data with the help of data recovery tools like Windows Data Recovery Software; it can even recover permanently deleted data from your system drives.
Conclusion: –
Hope this article helped you to repair ransomware-affected MP4 video files. A recommendation that all experts swear by is to have a high-quality anti-virus program installed on your computer to safeguard it from virus and malware attacks. Suppose you are stuck in the same situation; instead of paying them, you can use the best professional Recoveryfix Video Repair tool. It supports repairing video files such as WMV, MP4, and MOV affected by STOP/DJVU Ransomware. It is speedy and easy, and even non-technical users can use this.

Related Posts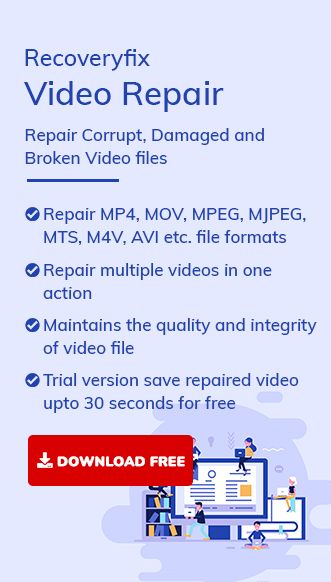 Browse by Category