Exchange administrators often have to back up user mailboxes for different purposes. Some inbuilt features of Exchange help you for secure backup. However, before using the PowerShell commands to export your Exchange 2016 mailboxes to Outlook PST, let us understand the benefits of backing up mailboxes as PST files.
Benefits of backing up Exchange mailboxes as PST files
First of all, PST files are accessible in MS Outlook. And Outlook is the most natural email client for Exchange Server. Some other advantages of backing up mailboxes in PST files are:
Outlook PST files are portable which means that you can move your Outlook data from one PC to another or you can move it even outside the organization through external storage devices.
Facilitates brick-level backups
As server-level backups are expensive to perform, many organizations prefer brick-level backups. And exporting user mailboxes to PST files is the easiest way for brick-level backups. Usually this is done to meet legal requirements and also to retain the data of employees who have left the organization.
Reduces Exchange database size
Exchange mailboxes that are no longer in use can be deleted after they are properly backed up. After backing up the user data in PST file, you can delete it from Exchange database to reduce its size.
PST files keep data secure
You can secure your PST file data with a password so that no other person can view your data.
Exchange Management Shell cmdlets to export Exchange 2016 mailboxes to Outlook PST
Using Exchange Management Shell cmdlets, you can easily export your Exchange 2016 mailboxes to Outlook PST. However, before starting the export, you have to do meet the requirements mentioned below:
You have to open, Exchange Admin Centerand assign Mailbox Import Export Role to the user who is performing this task.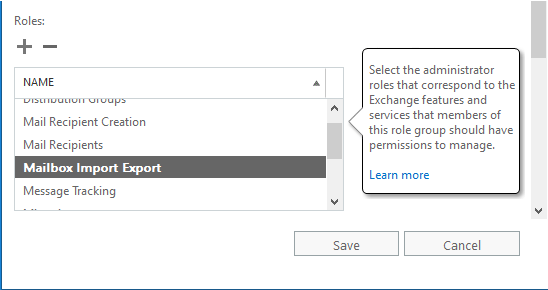 Your PST file saving location should be a shared network path.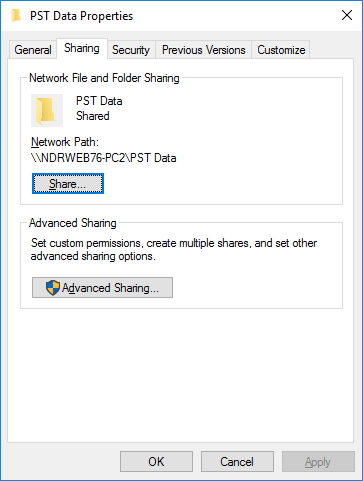 Now open Exchange Management Shell and run the command as mentioned below:
New-MailboxExportRequest-Mailbox<mailbox-name>-FilePath"<destination file path>"
In the above, enter the name of the mailbox which you want to export for Mailbox parameter and the location of PST file (as network path) for FilePath parameter.
For e.g.:
New-MailboxExportRequest-Mailbox abcd@www.kernel21.com -FilePath "\\NDRWEB76-PC2\PST Data\Kanishka_PST.pst"

After running this command, the specified mailbox data will be migrated to Outlook PST. You can view it in the specified location.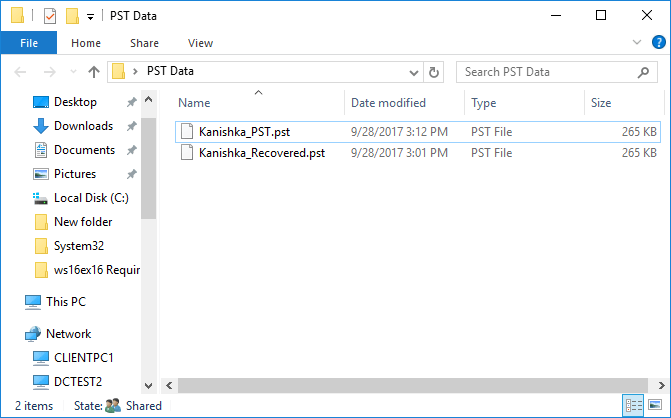 An automated method to export Exchange mailboxes to PST
Recoveryfix for Exchange Server Recovery is an intelligently designed tool for migrating EDB files to PST, Live Exchange, and Office 365. With the use of this tool, you can quickly recover your deleted items from EDB files. This utility does not require MS Outlook installation to perform EDB to PST conversation. You can export user mailboxes, public folders and archive mailboxes of Live Exchange to Office 365 using this tool.

Download and install Recoveryfix for Exchange Server Recovery on your system.
Launch the software and click Add Source on the home screen. Select Live Exchange option from the pop-up and click Next.

Here, you'll have to provide information related to live Exchange, such as connection option, Exchange Server version, IP address, etc. After adding the information, click Next.

If you're migrating multiple mailboxes, then select the specific mailboxes for migration and click Next.

Live Exchange server will be added to the software with all the included folders; you can preview its content by selecting a folder and its item.

Now, to export these mailboxes to PST, right-click the root directory and select Export Mailboxes to PST.

The Export-Mailbox dialog box will appear on the screen. Here, you can select the folders that you want to export, set filters as per requirements, select a saving location, and then click Export.

The Export process will start; once it is complete, a notification will pop-up on the screen confirming Process completed. Click OK to finish the process.

The job summary of the export process will appear on the screen. Click OK to end the process.
Summary
Using Exchange Management Shell cmdlets, administrators can  export their Exchange 2016 mailboxes to Outlook PST efficiently. As a simpler alternative, they can try Recoveryfix for Exchange Server Recovery, a professional Exchange Recovery and Migration tool too.
Related Posts
Browse by Category