MS Outlook 2010, like other Outlook versions, uses PST format for saving its mailbox data. And like other file formats, PST format is also prone to corruption and is not considered reliable. Resolving these issues associated with PST files can be cost-intensive. Moreover, the time and resources spent on resolving these corruption/ recovery issues can be better used on some other important tasks.
A common cause of Outlook 2010 PST file corruption is the abnormal termination of a PST file when opened in Outlook. This scenario is unavoidable in a case if, either Outlook or Windows crashes or machine is powered down without quitting Outlook. Even though it is not recommended to store PST files on a central server (with users accessing them over the network) still some enterprises prefer this system just for the ease of access (also due to file size related restraints). This also can lead to the corruption of PST files.
Basically, the PST file corruption in Outlook 2010 can be divided into two categories, such as Software and Hardware corruption.
Hardware Corruption:
A problem with the disk drive might not allow the user to either store or transfer data (or both), leading to file corruption. This can be further subcategorized into three categories, which are as follows:
Device Failure: If the PST file is located in a bad sector on a faulty drive, it might render the file useless due to errors.
Faulty Network Hardware: In this case the Outlook PST file resides on a remote network server and can only be accessed form the client's computer via. network. If there is any issue with the network hardware, such as a faulty cable, damaged routers, hubs or any other issue with other hardware components, accessing these files remotely can severely affect these files and is a leading cause of corruption.
Power fluctuations or failures: An abnormal shutdown is the most common cause of the corruption. This can be easily avoided by employing and investing in power backup devices such as UPS and generators.
Software Corruption:
Software corruption also affects the PST files and is further subdivided into four categories:
Abnormal Outlook Termination: In a normal scenario one should always save the changes to the PST file and then only should quit the program. An abnormal shutdown can cause the PST files to corrupt. This software corruption issue is linked with the hardware issue (i.e. power failure).
Shortcomings of Outlook: Just like every software, Outlook is not perfect. There are some issues which cannot be solved by bug fixes or patches. For example, when Outlook encounters an error it automatically shuts down with an error message, which can cause the PST file corruption.
Viruses and Other Malicious Attacks: A virus attack does not specifically damage PST files but affects the whole system. It might make the PST files inaccessible to the user.
Recoveryfix for Outlook PST Repair Tool:

As the name suggests, Recoveryfix for Outlook PST Repair is a very efficient data recovery tool, especially meant to recover those troublesome and corrupt PST files which are giving you a hard time.
This tool is your one-stop solution to repair, recover, preview, and save the corrupt PST files. This software is equipped with powerful algorithms that can recover severely damaged, corrupt and even deleted PST files such as emails, calendar, contacts and attachments. Later the recovered PST data can be saved in MS Outlook or Outlook Express. Also, the PST emails can also be saved to a PST or MSG file.
Irrespective of the PST file size, it can recover the valuable data without any hassle. In our opinion it is a better alternative to Scanpste.exe. It comes with a very clean and simple user interface. We constantly try to make the user experience as comfortable as possible. Preview and filter features come in quite handy as it allows the user to save the files of interest. Moreover, the 'split feature' allows you to split large PST (repaired) files into multiple smaller files. Moreover, this tool supports Outlook 2010 and other versions.
Locating Outlook 2010 PST Files on Your System:
Many outlook users are unaware of the location of the corrupt/ damaged PST files on their drives. Location of these files depends on the particular version of Outlook. If you are using MS Outlook 2016 and 2013, then the location can be found here –
C:\users\username\Documents\Outlook Files
If you are using the earlier versions of Outlook like 2010 and 2007, then you can find PST files here –
C:\users\username\AppData\Local\Microsoft\Outlook
It is quite easy to find the location of PST file within the Outlook application itself. In Outlook 2016, 2013, and 2010 click the File option (can be found in the menu bar).


This will open the account information tab, select Account Settings. From the dropdown menu again select Account Settings.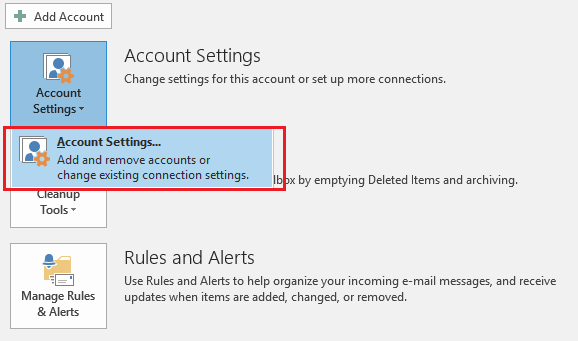 This will open a Dialog Box. Then select the Data Files option, this will show you the names and locations of all .PST and .OST files.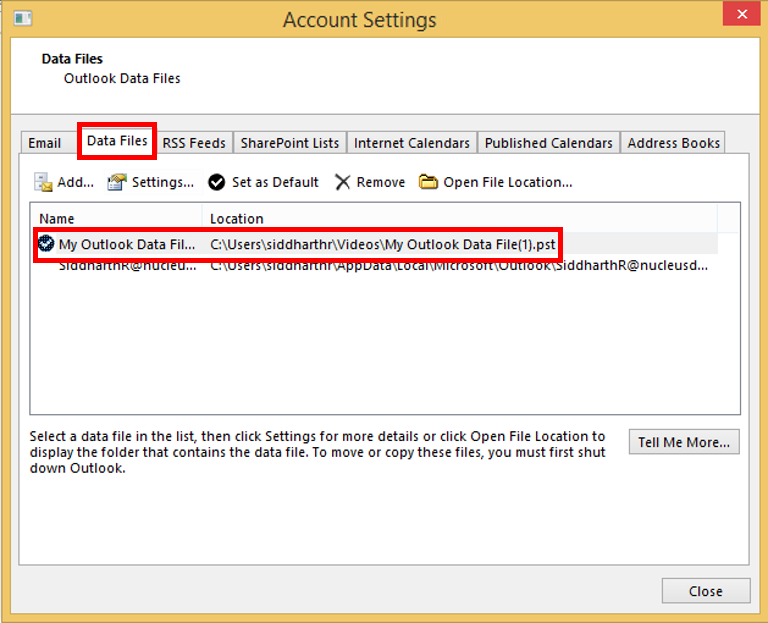 Now we have the location where our Outlook .PST files are stored. We can now move on to the next step i.e. PST file recovery, which is quite straightforward.
Install and launch the software, this opens a user interface.

Next click on the Browse button. This opens a separate dialog box, just paste the location where your damaged PST files are located. The user has the choice to select between Standard (little faster) and Advanced mode. Then Click Next.

On the left side one can see a folder wise tree view structure along with the retrieved content on the right side. The user now can Save the recovered PST file(s).

To Save the files of your choice, just check those folders/ files. Then hit Save.

One can Save the recovered data either in MS Outlook or in Outlook Express. To Save the data in any of the two MS Outlook formats (PSG or MSG), choose the format and define the location where they want to save the recovered file(s). Additionally, it comes with a functionality to Split heavy files into multiple smaller sized files. From the dropdown menu select the option of your choice and click OK.

The too now shows the recovery progress (see the progress bar).

The saved file(s) can be accessed from the Path shown in the message below.
Related Posts
Browse by Category