Microsoft's Outlook is one good utility to handle emails and everything else which relates to email. The stunning application has made its name out in the market with what it offers; the simplicity and user-friendliness of Outlook is quite compelling and resisting to the thoughts of even thinking about using a different email client specifically for Windows Operating System.
Because of the simplicity and easy accessibility both individuals & businesses use Outlook for the daily do, and many users use multiple Outlook accounts in a single instance of Outlook, cutting-it-short, there is no need of running multiple Outlook instances.
So, how would you locate the Outlook PST file(s) when you have a number of Outlook accounts?
The first thought in your mind would be checking the default location, but that would not help if you've changed the location already.
In this article, we'll talk about methods which you can use to search multiple Outlook PST files on your PC.
Search in the default location/path
Well, before we jump to other methods, searching in the default location where Outlook saves the PST data file automatically would come handy. You could save time if you didn't take the PST file and dragged it over a different location. Below are the default location/paths to find Outlook PST file for different versions of Microsoft Outlook:
For Outlook 2002/XP:
C:\Program Files\Common Files\System\MSMAPI\scanpst.exe
Note: In-case if you're using the very early builds of Microsoft Outlook, then navigate to the above location/path and make use of SCANPST built-in utility of Outlook application.
For Outlook 2003:
C:\Program Files\Common Files\System\MSMAPI\
For Outlook 2007:
C:\Program Files\Microsoft Office\Office12
For Outlook 2010:
C:\Program Files\Microsoft Office\Office14
For Outlook 2013:
C:\Program Files\Microsoft Office\Office15
For Outlook 2016:
C:\Users\*username*\\DOCUMENTS\Outlook Files
Notes: Change *username* here with your Windows system username.
Look in MS Outlook
If the PST data file is still missing from the above-listed default locations, then you can look for the file's location via the Outlook application itself.
Follow below steps:
Open Outlook,
Click on File tab > Account Settings > Account Settings.
A new account settings window would pop on-screen, move to Data Files tab.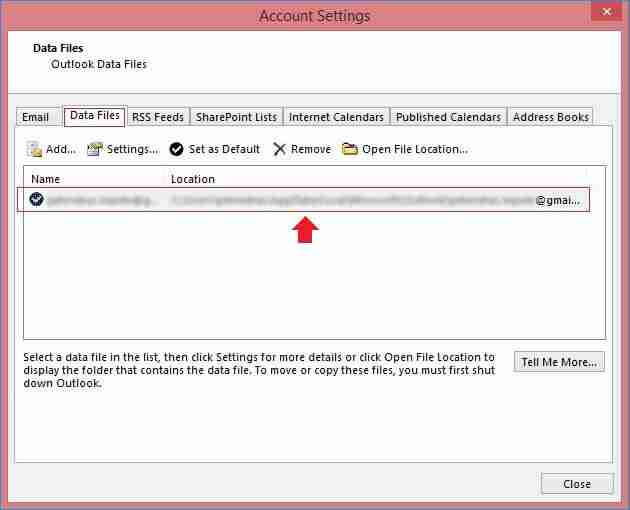 Double-click on the account file listed under the file section, as shown above.
Copy the file location and click Close.
Paste the file location in the address bar of file explorer and press Enter
Above are the methods or possible workarounds with the help of which you can search for multiple Outlook PST data files stored on your Windows machine/system, and you would not need to open MS Outlook for the job.
A Free Tool to View PST Files
PST Viewer by Recoveryfix is an advanced tool designed for viewing Microsoft Outlook PST data files. The tool eliminates the need of Outlook for opening and accessing PST files.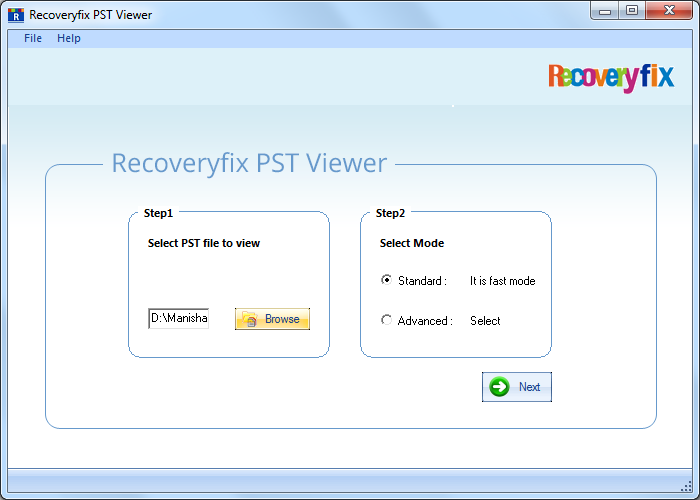 Using the PST Viewer tool, you can gain access to both healthy and corrupt PST files. Once you select the PST file(s), upon completion of scanning the tool gives you detailed view to the contents of your PST file, and along with data scanning and preview, the file structure and item hierarchy remain same, though you wouldn't feel if the new file is the recovered one.
Conclusion
If you store multiple Outlook PST data files to a specific location/path as per your preference and could not find a PST file which you may need to access urgently, above methods/workarounds are the best options you can go-with for searching all the PST file(s) available on your Windows machine. Recoveryfix PST Viewer covers you in situations when PST file becomes corrupt, and you need to access the data inside on urgent basis, it eliminates the need of PST Repair at the moment, you can directly access the contents of a PST file.
Related Posts
Browse by Category