The archiving feature is a very important addition to Outlook, and many users rely on it for many important reasons. Sometimes, it may happen that you won't be able to open archive PST files in Outlook due to whatsoever reasons. This blog is going to educate the users on how they can open an archive PST which is not opening.
Reasons Why A User Can't Open an Archived File
Before moving forward, let's first discuss why this problem happens, so that you can have a fair idea about its occurrence:
Incorrectly configured Outlook Profile
Virus attacks
Bad sectors
Corrupt archived file
How to fix the issue?
To fix the error "Archive PST not opening," you can go for a couple of tricks and PST repairing methods. Here we are going to list all of them one by one, hoping that one would work for you:
Try a new Outlook profile Sometimes, the actual problem may not be with the file, but it might be with the Outlook profile. So, changing an Outlook profile may provide you with positive results.
Try opening any other archive PST It may also be possible that your Outlook profile is fine, but there is some problem with the specific PST. So, try opening another archive PST and see if the same problem occurs with that archive PST too. If it doesn't and that PST is opened smoothly, then there is an issue with that particular PST, and it needs to be repaired.
Solutions 1: Run anti-virus
Virus attacks might be one of the reasons why you are facing this problem. So, the ultimate solution to this problem is to install a reliable anti-virus software and run a scan. As you run the scan, your problem will be solved; if it doesn't solve after that, move to the next solution.
Solutions 2: Run SCANPST.EXE
SCANPST is the best available PST repair utility Outlook can provide its users with. It can repair minor corruptions in PST and can make it work fine. You can find Scanpst.exe utility in your system by navigating to the Microsoft folder and finally tracing the Outlook directory and then SCANPST.EXE.
Once you successfully open the Scanpst.exe, click on the Browse button and select the required archive PST.
Proceed with clicking on the Start button.
The tool will start scanning to look for the error, and as the scanning ends, the tool will mention the problems with the PST file.
Once the errors are detected and listed, click on the Repair button.
After that, a repairing process will take place. Let it finish. Finally, click on the OK button once done.

Check if this solves your problem, if it doesn't, then move to the next solution.
Run Recoveryfix for Outlook PST Repair
Recoveryfix for Outlook PST Repair is a popular tool that can efficiently recover a PST in a few easy steps. If you have tried all the above-stated methods, but not getting the results, then this method will provide you a guaranteed solution. Let's see how this method will help you:

Start with clicking on the Browse button available on the home screen. Select the corrupt archive PST file and the scanning mode. Click Next.

The tool will run a scan and will open a preview window with all the content of the PST. Here you need to click on every folder individually to have a preview of it. Once folders are selected for saving, click Save.

Choose your preferred saving option from the multiple saving options. Here I am going for PST format under Save In Outlook. Provide a destination to the file, by clicking on the Browse button. Decide if you want to split the file after a specified size or not. Click OK once done.

The saving process will start; wait for it to complete.

Once the saving process is done, click on the OK button.
By following all of the above steps, you can achieve the desired results. Once it is done, you will find the healthy PST saved at the location that you selected for it.
Conclusion
We have talked about many ways with which you open an archive PST which was not opening earlier. We have discussed how you can repair a corrupt archive PST or any type of PST with Recoveryfix for Outlook PST Repair. This tool is the best approach for any sort of PST issues you might be facing.
Related Posts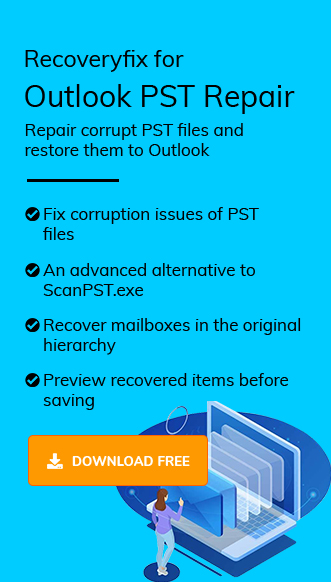 Browse by Category