"When I attempt to backup or copy my PST file, MS Outlook throws error code 0x80070021 at me, which states that- The process cannot access the file because another process has locked a portion of a file. What should I do? I urgently need to create a backup of all my PST files as a precautionary measure against potential data loss. Please help!"
MS Outlook is an excellent email management utility and offers a bunch of useful features as compared to other rivals. Apart from the advantages it can offer, it can sometimes throw various errors at you. In this post, we are extensively going to look at the error code 0x80070021. A user encounters this error when they attempt to copy a PST file from one location to another. A probable cause of this error can be attributed to the running of an instance of MS Outlook in the background. In this post, we will discuss workarounds this error so that by the end of this post, you will be able to resolve this issue.
Recommended Solution
The finest solution to repair any level of corruption in a PST file is
Recoveryfix for Outlook PST Repair
. It comes with the capability to even repair large-sized PST files without any struggle.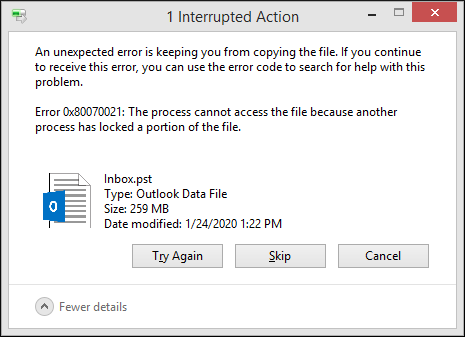 Precautions to Take to Avoid Error Code 0x80070021
This error code pops up not only in Outlook but also in other windows programs that run in the background, including programs like Skype, Google Calendar Sync, etc. Following are the measures that you have to take to avoid error code 0x80070021:
A large PST file is prone to file corruption; hence it is recommended not to exceed the file size by 10 GB. If you have any PST files over 10 GB, then you try splitting them into smaller parts.
Abnormal termination of the Outlook program is another major cause of this error.
Never store a PST file on a server as technical glitches, and network errors can corrupt a PST file quite easily. Always store the PST files locally on your system.
Make sure to invest in some useful antivirus tools as malicious attacks remain one of the vilest reasons for PST file corruption.
How to Fix Error 0x80070021?
In this section, we will discuss four feasible ways to fix error code 0x80070021.
Way #1 Perform a Clean Boot
Clean Boot is a little bit different from Safe Mode; in clean boot, Windows starts up in normal mode but without non-essential and non-Microsoft background applications or services. The steps to perform clean boot are listed below:
Hold +R keys. In the edit, box enters msconfig and click OK.

Click on the Startup tab > Open task manager.

Next, click on the Services tab > check Hide all Microsoft services box > click Disable all > OK.

A clean boot allows you to start Windows with a minimum number of processes running, try copying the PST file. Holding down the Shift key while Windows boot can also prevent programs (that runs at boot) from running.

Note: In step 4, always check the Hide all Microsoft services box; otherwise, on rebooting, you might encounter boot errors.
Way #2 Close Outlook Running in the Background
To stop Outlook from running in the background, follow the steps outlined below:
Right-click the Taskbar > select Task Manager from the list.

Under the Processes tab, look for Microsoft Outlook > select MS Outlook > click on End task.

In the COM Add-ins window, uncheck the Windows Search Email Indexer and click OK.
Way # 4 Recoveryfix for Outlook PST Repair
If you are still getting error code 0x80070021, it implies that your PST files might be damaged or corrupted. To repair a damaged PST file without messing up the contents is a tricky task and should be left to professional tools such as Recoveryfix for Outlook PST Repair. The tool is equipped with powerful algorithms that can quickly repair any damaged PST file irrespective of the file-size. The interactive graphical interface lets even the non-tech savvy users use the tool without any technical assistance.


Conclusion
To conclude, in this post, we have discussed a total of four possible ways to get past error code 0x80070021. The first three methods are DIY and are easy to implement. Finally, if you still getting this error, then this implies that your PST files are damaged/ corrupted. To repair PST files with ease, we highly recommend Recoveryfix for Outlook PST Repair.
Related Posts
Browse by Category