Summary: – This article will discuss the Windows stop code – Inaccessible Boot Device error and its solutions. Please read this blog to learn all the possible causes of Inaccessible Boot Device Errors in Windows 10 systems and fix them effectively. Let's begin.
The most common error in Windows 10 systems is the Inaccessible Boot Device error which generally occurs during Windows startup or system upgrade. It is known as the Blue Screen of Death (BSOD) with error code 0x0000007b, and often stops computers from booting correctly. When you encounter this device error, your system screen turns blue and shows up with a stop code 0x0000007b. The Windows file system tries to read the boot device but fails.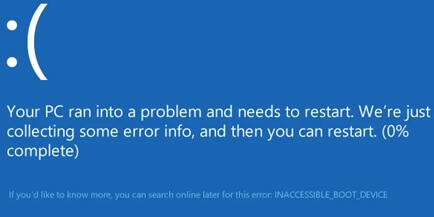 What is Inaccessible Boot Device Error?
First, we should understand what an Inaccessible Boot Device Error is
Windows automatically updates, which is exciting when a new update is rolled out. Sometimes this auto-update is liable to introduce an error. In simple terms, the error message means that Windows lost its access to the system partition during the startup process.
Causes of Inaccessible Boot Device
Windows upgrade.
Drivers are faulty: Corrupted, outdated, or misconfigured.
Using a different storage controller.
Hardware errors, like as a damaged hard disc.
Corrupted, outdated, or inaccurately configured drivers.
The hard disk is moved to a different computer.
Damaged registry settings
Ways to solve the error Inaccessible Boot Device in Windows 10
The computer needs to be restarted
A simple step of reboot sometimes solves the error. Due to the error, you can't access a restart button on the screen, wait until it shuts down, hold the physical power button for a few seconds, and then press it again to power the computer back.
Undo the latest changes
When the Inaccessible boot device error appears after a noticeable change, reversing it will most likely be the solution. It depends on the situation; the answer might be to remove recently installed hardware, and the program needs to be uninstalled, rolled back a driver, or unplugged into a new USB.

If, through the undoing process, the recent change in the error is resolved, dig into that thing specifically. For example, if the error is solved by uninstalling a Windows update, for the time being, you need to pause Windows Update to provide time to address the problem before it gets auto-installed again.

Update the display driver of your computer

Now press Windows + S for Search.
Type Display Adapter, right-click, and select Update Drivers.
Then double-click on the Display adapters.
Now, right-click on the graphics card, then select Update Driver Software from the options.
Then select Search automatically for drivers from the options in the Update Drivers column.
Wait for Windows to find the best suitable driver and install it.

Enter Safe Mode

Hold on to the "Power" button to turn on your System and press it again to turn it off. For Automatic Repair, repeat this process twice or thrice.
Once the Automatic Repair begins, then follow this navigation path "Advanced Options"> "Troubleshoot" > "Advanced Options" > "Startup Settings". Then "Restart."
Then click on Enable Safe Mode.

Recover data using a professional Windows recovery tool
Your Windows hard drive may have been damaged irreparably. Still, you can recover its data through Recoveryfix for Windows Data Recovery software.
Benefits of Recoveryfix for Windows Data Recovery software
Recovers all data from Windows, including images, MS Office files, Documents, Emails, Media, Graphic & video files, and other stuff.
Recovers Permanently Deleted Data instantly after data loss.
Recovers Data from Severely Corrupt Drives
Supports all types of drives such as EIDE, Mobile (via USB connection) IDE, SCSI and SATA, PAN, ZIP, and USB
Conclusion
The above methods have proven beneficial when solving Inaccessible Boot Device Errors in Windows 10. If the above methods don't work and your computer is not starting. It would help if you used Recoveryfix for Windows Data Recovery software. The Windows data recovery software will help you to retrieve important data.
Related Posts
Browse by Category