Exchange administrators face many types of errors while using Exchange. For example, they fail to mount the Exchange database fails after successful restore. You don't need to be panic if you encounter any issue like this because we will give a proper solution for this. However, before that we should get to know why this error occurs.
Why does the Exchange database fail to mount?
Exchange administrators face this error due to various reasons:
Logs files are missing or inconsistent
Space issue in the drives
Time is not matching in directory and database
Database failed to mount as AD is not accessible
Antivirus programs
Workaround to fix database mount issues
To fix the database mounting issues, you need to try the use following steps:
Now check the status of your database whether it is consistent or inconsistent.
Eseutil/mh "drive: \program files\exchsrvr\mdbdata\priv1.edb"
After this, if your database is in a consistent state, remove all the transaction log files except the current file. If it is in an inconsistent state, then you have to restore your last online backup. If your backup is not valid, then you need to run soft recovery – Eseutil/r
If this soft recovery fails, then you have to execute hard recovery Eseutil/p to repair it. If this command fails to repair the database, then you should use a third-party tool to repair your database.
Recoveryfix for Exchange Server
Recoveryfix for Exchange Server, a specially designed Exchange Recovery Tool, has many brilliant features. For recovering your Exchange database files, this tool does not require log files. You can restore your entire database with EDB files only. After restoring the database, you can export it to PST files, Live Exchange, or Office 365. You can also export or repair the public folders and archive mailboxes using this tool. This tool is efficient in fixing all kind of Exchange related issues and errors.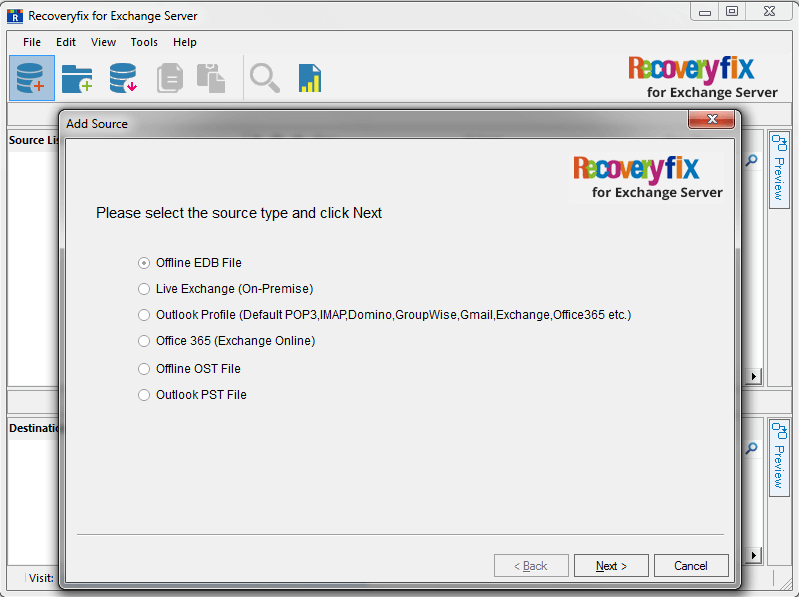 Additional features of the tool
Migrates data from MS Outlook profiles configured with IMAP, POP3, GroupWise, or Domino account.
Performs electronic discovery if you are searching for any specific email item.
Extracts Exchange EDB, STM or log files from backup files.
The software is also available in demo version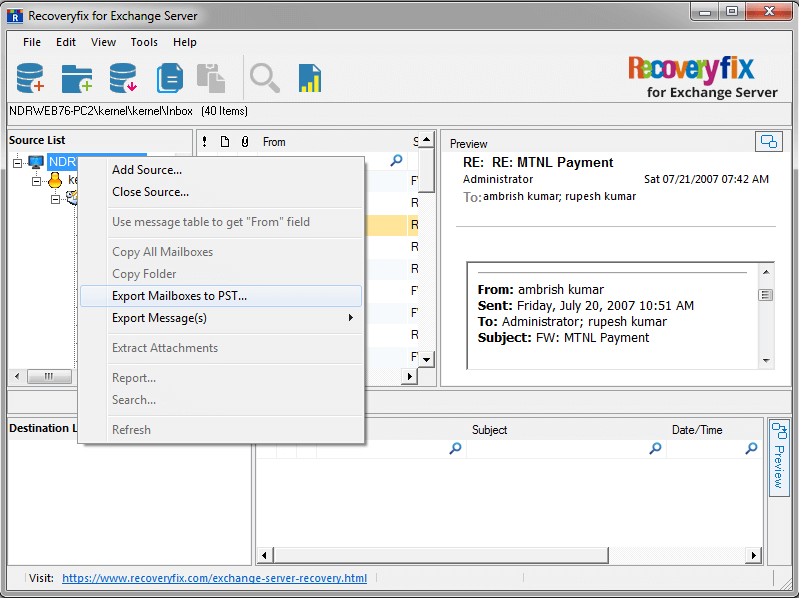 Related Posts
Browse by Category