Microsoft Outlook is the most popular email client application in today's scenario. Its prime function is to organize and manage personal information, including emails, contacts, tasks, appointments, notes, etc. Though it is a stable application, it may face issues occasionally.
One such error that comes is the "421 cannot connect to SMTP server" error. This error appears due to incorrect settings for the SMTP / SMT server, but some other reasons will also trigger this Outlook behavior. If this error shows up, you are unable to send emails.
MS Outlook relies majorly on three protocols – SMTP, IMAP, and POP. Whenever there is any issue with the PST file or configuration of these protocols then one may face various issues like not able to find missing folder in Outlook, Outlook sending messages on your behalf or Outlook is not starting etc. Few technical glitches majorly arise due to incorrect configuration or server port issues.
Error 421 in Outlook
Outlook error 421 is a standard SMTP error that creates problems in the transmission of emails. This error occurs while sending and receiving emails on the server. It may also happen when you have crossed a restricted limit on the email account. A lot of inconveniences can occur due to this error, as it stops all the activities related to your email account.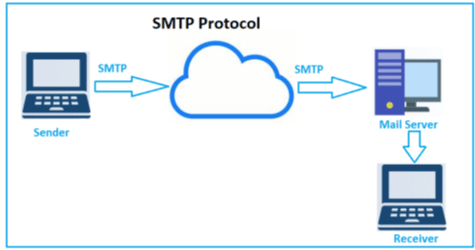 SMTP means Simple Mail Transfer Protocol, a text-based protocol that handles email transmissions. The SMTP error 421 may display in the below formats: –
421 cannot connect to the SMTP server
Server error 421
Could not send a message. Error 421
Reasons behind the SMTP/SMT error 421
Mistakes in Outlook configuration
Corrupted PST files in Outlook
Antivirus interferences
VPN (Virtual private network) connection issues
Blocking by 3rd-party firewalls and antivirus
Port setting issues
How to fix the SMTP/SMT error 421?
We offer some easy ways to solve the error "421 Cannot Connect to SMTP Server." Follow the methods until you figure out a solution that successfully solves your problem.
First Method: Reconfiguration of the Email Account
When the error "421 Cannot Connect to SMTP Server" occurs, an easy solution is to remove the account and then reconfigure the same using the Auto-account setup. This process will surely help resolve any issues that might have occurred due to configuration issues.
Open MS Outlook and click on 'Files.'
Go and click Account Settings > Account Settings.
Select the current email account and click on 'Remove' to disconnect it from Outlook. Now, click on 'New' to add the email.
Enter necessary details and click 'Next.' Finally, click on 'Finish.'
Second Method: Turn Off VPN and Antivirus Applications
Sometimes specific programs like antivirus tools and VPN applications can conflict with the Outlook application's functioning. It will restrict and block certain functions in Outlook. To solve these types of cases, turn off the antivirus or VPN tool you are using and try to send emails in Outlook.
Third Method: Reset the SMTP Server Port
Check the port settings by using these steps-
Under the 'Files' section, go to 'Account Settings > Account Settings.'
Click on the email account and click 'Change.'
Click on 'More Settings' and then go to the 'Advanced' tab.
Change the value of the SMTP outgoing server to 465; click on 'OK.'
Move to Settings again.
Under the 'Outgoing Server' tab, select the checkbox 'Use same settings as my incoming mail server' and click on 'OK.
Fourth Method: Turn Off Firewall Applications
Windows firewall restricts unauthorized access to systems. Sometimes, this application can disturb the Outlook application and cause the error "421 Cannot connect to SMTP server." So, disable the Windows Firewall application to solve this error on your system.
Fifth Method: Run System Restore
Sometimes, even after performing all the steps listed above, you still have the error "421 Cannot connect to SMTP server." Then, it would help if you use the System Restore feature in Windows; through this, the system goes back to a previous date when Outlook was working perfectly.
Sixth Method: professional Outlook PST Repair Tool
Trying a professional tool like Recoveryfix for Outlook PST Repair is an excellent option to fix Outlook errors and recover the lost data. It fixes errors in the PST files of all Outlook versions. The tool successfully saves all the PST file content to healthy PST files. Once you have transferred the contents to a new PST file, open it up in MS Outlook, and try sending emails again

Conclusion
SMTP email protocol is responsible for sending and transferring emails. The issue 'Outlook 421 cannot connect to the SMTP server' can disturb its whole functionality. If these methods don't work, we highly recommend you use this tool, which can scan the corrupt PST files and recover the missing items. Once you use this tool to fix corrupt PST files, then you can fix other various issues as well which have occurred due to corruption of PST files like fixing the message interface has returned an unknown error issue. So you can certainly consider this tool as one stop solution to various troubles related to Outlook.
Related Posts
Browse by Category