Outlook is a widely accepted email client containing several basic and advanced features which are easy to use and learn. But like any other application, software, or machine Outlook too faces some technical errors or glitches which can cause an interruption in your email communication. There are ways with the help of which you can overcome these errors. Listing down a few common errors faced by Outlook users with their solutions.
Outlook PST Errors

PST errors is one of the most common five errors one could face while using Outlook. There are different types of PST errors, and for every kind of error, the solution is different.

1.1. "PST is not compatible with this version of the Personal Folders."

This is a common error that happens when user imports a PST file from an older version to a newer version. The previous versions of Outlook used to support ANSI format for PST files, while newer versions support UNICODE format.

Solution: For this, you can create an ANSI format in the newer versions and import files using the Export/Import wizard.

1.2. "The file drive: filename.pst could not be found."
If you are trying to access a PST and Outlook is showing this error, then this means that either your PST is corrupted, or you are having some server issues.

Solution: If there is a server issue, then it is suggested to wait and try after some time. If it is because your PST file is corrupted, then you can run scanpst.exe to fix it or install software to fix it.

1.3. Other common errors
Apart from these, there are several other PST related errors like "An unknown error has occurred. 0x80040119," "The file filename.pst is not a personal folder file," "Messaging interface has caused an unknown error," "Can't move this item," etc. You can fix these errors by manual methods or using a reputed PST repair tool.

Outlook Stops Responding

When you open a file, Outlook is continuously freezing or hanging, or you are getting an error "Outlook stopped responding" or the screen is just showing "Processing."

Solution: When you see the error, close the program, start Outlook in safe mode, then again close it and open it normally. It is also possible that Outlook is taking time to process the command and appears to hang, but it is not. This may happen if you are moving or deleting many files at the same time.

2.1. Other Reasons: The other reasons of the errors could be – your Outlook is outdated, your Outlook contains large PST or OST files, the user profile is damaged, Outlook program is corrupt, has corrupted add-ins, and many more.

Solution: Remove unwanted or extra add-ins which might be making your system slower, run Outlook in safe mode for once and see if it works fine in safe mode, split large PST files, or use an Outlook PST repair tool to fix the problems.

Outlook Crashes

A common error faced while using Outlook is that it crashes when you open it. The possible reason of Outlook crash can be an update. Sometimes new updates cause the software to crash. Sometimes the reason may be just opposite to this; your Outlook might be crashing because you have not installed an update.

Solution: If the Outlook is crashing after a new update, then uninstall the update and check if it is working fine. If it does, then do not update the software until you find a fix for it.

If the situation is opposite, install the latest update of software or the latest version of Windows and try to run the software again.

Anti-Virus

Anti-Viruses are for system's safety, but sometimes they may interfere in the operation of the application. They make several registry entries which may lead to crashing issues in Outlook.

Solution: To stop Outlook crashing due to anti-virus, you need to disable it.

Cannot Send this Item

It may happen that while sending an email you are getting an error saying, "Cannot send this Item," which is restricting you from sending (an email.).

Solution: As a solution, change the text into "Rich Text." For this go to the File tab. There you will find an Options button, click there. After that, a window will open saying Outlook Options.

Select Mail from the given options. In the category Compose messages you will see a drop down near Compose messages, you will see a drop down near Compose messages in this format. Select Rich Text format and click on OK.

Error 0x8000ccc0f

Error 0x800ccc0f can also display as "No connection could be made because the target machine actively refused it." Well, if you are getting this error, the possible reasons might be poor internet connectivity or a long period of inactivity.
Solution: First, check your internet connectivity. If it is fine, you can try uninstalling the anti-virus you are having on your system or disable the anti-virus and the Windows Firewall. After this, you can verify the server settings and correct them (incoming POP server name and outgoing SMTP server name).
Conclusion:
MS Outlook, no doubt, is an outstanding platform for electronic communication. But like every other software, it has its own drawbacks. There are times when the user faces a few errors; this blog is discussing those issues. Unfortunately, we cannot cover all the errors which users might encounter in this small blog. So, for that, we have introduced Recoveryfix tool for Outlook PST Repair which can solve almost every PST-related error you are facing. This tool can solve errors related to PST, and can also recover deleted folder items, and much more. The trial version of the software can save up to 30 items per folder.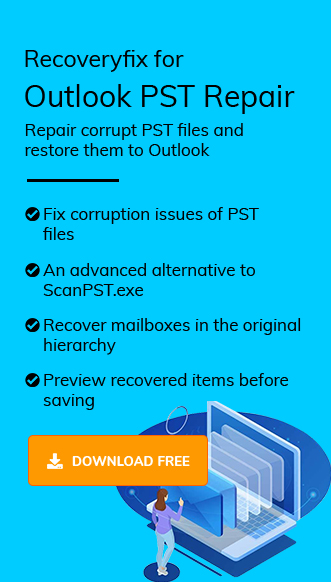 Related Posts
Browse by Category