MS Outlook is the most trusted and widely used email client. It offers exciting and useful features. Apart from all these positives, it can sometimes give you an error message out of the blue. Due to this error, you cannot open or send emails on your Outlook.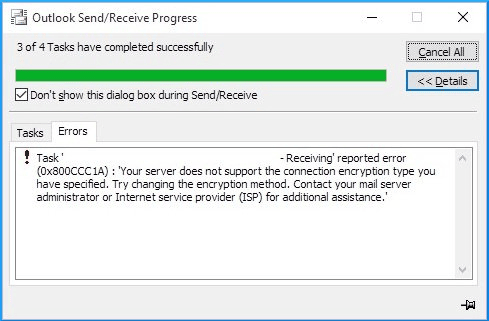 Symptoms
It is challenging for the user to identify and fix the cause. When you get this type of message, your system has a problem. Some usual symptoms are:
System freezes for several seconds.
PC frequently crashes while operating the same program.
You see an Outlook error message in the dialog box every time you open it.
Causes of Outlook Error 0x800ccc1a
Outlook profile damages
This error can occur if your Microsoft Outlook profile is damaged.
Encryption issues
In some cases, this issue can occur due to encryption issues (the encryption type is specified in SSL).
Antivirus interference
Due to email scanning features in an antivirus, this error can occur.
Virus infection
Many times, viruses are also responsible for Outlook errors. Also, third-party applications can affect the working of Outlook.
Improper system shutdown
Improper or abrupt shutdown of the Outlook application will result in an MS Outlook error 0x800ccc1a. Also, accidental termination or power surges make the file corrupt.
Due to the wrong SSL port configuration
Sometimes, the error can be due to the incorrect setting of ports. The SMTP and IMAP protocols run on a specific set of ports.
Inappropriate Outlook installation
Sometimes, not following the standard process will cause many problems, such as MS Outlook error 0x800ccc1a.
Method to Fix Outlook Error 0x800ccc1a
You can quickly fix the 0x800ccc1a error through the simple solutions mentioned below.
The first method – Create or Configure a New Outlook profile
A New Outlook profile can create for the same email account through the steps:
In Control Panel, click Mail (Microsoft Outlook). If you are not able to see it, make sure you change the view to Small Icons in the top right corner
Choose Show profiles. Here, first, add a new profile; give it a random name and enter your account details. Use the option Always use this profile. Now you can open Outlook and test now whether you can send and receive mail or not.
The second method – Change Outlook Encryption settings
Follow the process given below
Launch MS Outlook.
Click on File and then opt for the Account Settings option from the drop-down. Again opt for Account Setting.
In the 'Account Settings, choose the email account and click on the Change to-do-so.
Next, tap on the More Settings button on the "Change Accounts" wizard.
Go to the Advanced tab.
It would help if you unchecked the 'This server requires an encrypted connection (SSL)' option.
Then you must change or verify the port numbers for the incoming (POP/IMAP) and outgoing – for SMTP Port: 465 or 587, for POP Port: 995, for IMAP Port: 993. Click OK.
Finally, click on the Next button and press Finish.
Close the Outlook application, restart it, and check if the issue is solved.
The third method – Reconfigure the port configurations
Reconfiguring the SSL port configurations with the correct settings might help eliminate the error mentioned above in the code. The step-by-step process is as follows:
Launch the MS Outlook application.
Go to the File then click on Account Settings > Account Settings. Select the email account and click Change. Now click More Settings.
Select the Advanced tab and use encrypted connection for Incoming and Outgoing Server. Enter the appropriate ports – SMTP: 465 or 587, POP: 995, IMAP: 993. Click 'OK.'

Note: For Office 365 email account, use SMTP encrypted connection STARTTLS Port as 587.

Now click on Test Account Settings.
Finally, click Close and Finish.
The fourth method – Repair the PST file
This method is to fix error 0x800ccc1a using Inbox Repair Tool or Scanpst.exe.
Open "File Explorer" and head to '\Program Files\Microsoft Office\Office 12' folder (for higher versions of Office, try Office 13 or Office 14 or Office 15 folder).
Now click on "scanpst.exe" and browse to choose the damaged PST file. Click on the option Start.
After the scanning, select Repair.
Again, click on repair if you get any error message on your system.
When the error gets solved, you will receive a message Repair complete.
The fifth method – Use Recoveryfix for Outlook
Recoveryfix for PST Repair is a reliable solution to fix Outlook errors and recover lost data. It is an intelligent solution to combat corruption or damage of PST files and also to find a missing folder in Outlook. It is an easy-to-use and secure tool for all Outlook errors. It can repair severely damaged PST files irrespective of the file size. The tool successfully saves all the PST file content to healthy PST files. It can save emails to MSG, EML, and DBX formats too. Moreover, it supports all versions of Outlook.

Conclusion
Now, you should be able to overcome this situation. I hope you can quickly solve the error "Outlook Error 0x800ccc1a" by trying the solutions provided here. If these methods don't work, we recommend you go ahead with one of the best tools named Recoveryfix for Outlook. This tool supports all Outlook versions.
Related Posts
Browse by Category