Tag Archives: ost to pst converter
Outlook Data Files are of two types – OST (Offline Storage Table) and PST (Personal Storage Table). OST files allow you to access MS Outlook mailbox items during unavailability of internet (when MS Outlook is not connected to the Exchange Server). Whatever changes you make during offline mode, get synchronized automatically whenever internet connectivity is back.
Talking about data corruption, OST files get corrupted easily. And, OST corruption can lead to data loss if not fixed immediately. Before knowing about fixing OST corruption issues, you should know the most common reasons for the same.
OST corruption is most likely to occur due to:
Bad sectors on your system's hard disk where OST files are stored
Data synchronization issues between OST files and Exchange Server
Failure of data storage devices
Network connection issues
Improper Outlook termination or upgradation to a higher version
Virus attack, abrupt system shutdown or sudden power failure, etc.
Outlook mailbox cannot be accessed during OST corruption. Depending upon the cause of corruption, different error messages are likely to appear on your computer screen if you try to access mailbox items during OST corruption. Here are the most common error messages you might get while trying to open corrupt OST files:
"Unable to expand the folder. The set of folders could not be opened. Errors could have been detected in the file xxxx.ost. Quit all mail-enabled applications, and then use the Inbox Repair Tool."
"Cannot open particular Outlook items when offline"
"Cannot open your default email folders. The file xxxx.ost is not an offline folder file."
How to fix OST corruption?
Error messages is good enough to make you worry about your data. However, there is no need to get worried. OST file corruption can be fixed easily. You can either use native Inbox Repair Tool (Scanost.exe) or a professional OST to PST Converter tool to fix OST corruption issues. First, try using native tool.
Inbox Repair Tool (Scanpst.exe/Scanost.exe)
Microsoft provides Inbox Repair Tool along with its MS Office suite. Also known as Scanost.exe tool, it's capable of fixing minor OST corruption issues. It's absolutely free. To use it, follow the below given steps:
Open – drive:\Program Files\Microsoft Office\OFFICE (version)
Double-click Scanpst.exe/Scanost.exe to open it
Type the name of the file you want to repair or Browse it.
Select Repair checkbox and click on Start Scan.
The scanning process begins.
Once it's over, open Outlook and go to Folder List. Repaired OST files can be seen inside the folder named Recovered Folders List. And if not, you need to use a professional software.
Inbox Repair tool is incapable of repairing severely corrupt OST files. And, there is no guarantee of complete and accurate data recovery. Thus, using a professional OST recovery tool is the best way to recover corrupt OST files. Recoveryfix for OST to PST, is a prominent tool to recover corrupt OST files. It swiftly fixes all OST corruption issues regardless of the cause of the corruption and recovers entire Outlook mailbox data.

It uses its two robust scanning modes – Standard mode and Advance mode to scan corrupt OST files. You can save the recovered data in different formats such as PST, EML and MSG. The software also lets you save email messages in HTML, RTF and Plain Text format. The software comes with LIVE update feature (automatically updates the software with the latest version).  And, it's compatible with most of the versions of MS Outlook including 2013, Outlook Express 5.0 and above and MS Exchange Server including 2013. The too is incredibly easy to operate because of its user-friendly interface.
How to Recover Outlook Data File OST
Recover Corrupt Outlook OST file data using a professional tool
Follow below steps one-by-one:
Open RecoveryFix OST to PST software tool.
Below is tool's home screen, there two steps,
Step 1 – to select the corrupt OST file.
Step 2 – to select the recovery mode.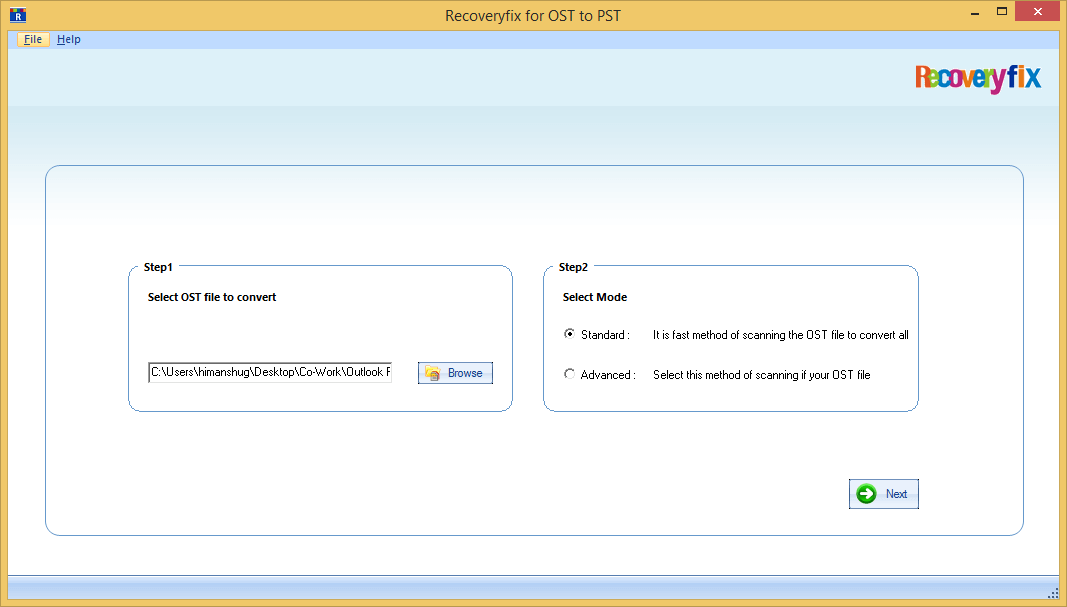 Select the corrupt Outlook OST file.

Select the Recovery Mode, select Standard Mode.

Note: Recovery Mode selection depends upon the level of corruption, for serious file corruption you should select Advanced Mode.


Click Next,
The tool will scan the corrupt or damaged Outlook OST file.

Note: Time for scan completion depends on the total size of the OST file.


Upon the scan process completion, tool's interface would refresh and load three different sections which are
file tree structure view – in the left, folder view – at the top, message view – at the bottom,

Note:
In the file tree structure view, you can expand or collapse any folder – empty or containing file(s) and select as per the requirement.
Clicking on the specific folder(s) would list the folder contents – items.
Clicking on specific emails – messages, you can view the email, this feature is Live Preview.


Select all the folder(s) as per your requirement or select the master (root) check box, as shown below, to recover mailbox file(s) & folder(s),

Once you're done with folder(s) selection, click Save.
In the Saving Options Screen.

You can select between saving the file to Outlook or Outlook Express and choose between keeping the recovered data in PST file or MSG file format and lastly picking the file location/path to save it.
Note: If you wish then you can remove IPM_SUBTREE from the hierarchy in Outlook, and in case if you don't possess enough technical knowledge then leave the option as it is.
Check/Uncheck the Attach Prefixes to Store Name.

Click Ok, when you've finalized the save settings.

Total Time required for Saving Process depends on the actual size of Outlook OST data file,

Note: You can stop the saving process anytime if you've done something wrong during the whole process.


Finally, click OK.
Offline Storage table or OST is a file format to store Exchange mailbox information when MS Outlook fails to establish connection with Exchange Server. OST file synchronizes with MS Exchange Server soon after Outlook is reconnected with Exchange network. But presence of several factors in the MS Exchange environment halts OST synchronization process. These factors are mentioned below :
Virus, spyware and adware codes
Unexpected system shutdown
Exchange Server crash
Internet disruption for long time
Abnormal OST file size
Computer hardware malfunctioning
Corrupt or missing Windows system file
Several Outlook profiles on client Server
OST Synchronization errors
  OST corruption or synchronization failure is highly undesirable event in large IT organizations who use MS Outlook client for email communication. One of the common OST synchronization errors is shown below:
Unable to expand the folder. The set of folders could not be opened. Errors could have been detected in the file pqr.OST. Quit all mail-enabled applications, and then use the Inbox Repair Tool
Here pqr.OST represents an Exchange OST file that shows abovementioned error message.
Resolution
You should check whether there are multiple Outlook profiles for a single account and delete all profiles from your system.  Then you can recreate a new Outlook profile using following steps:
Click Windows start menu
Go to Control Panel>Mail
Hit "Show profiles" in the new Windows
Press "Remove" button to delete old Outlook profiles
Click "Add" to create a new Outlook profile and press "Ok" button
Click "Manually configure Server Settings or additional Server types"  in the new Windows and press" Next"
Add your Exchange account address and press "Next"
Click "Finish" to  complete creation of Outlook profile
Restart MS Outlook to  synchronize with Exchange Server
If the above mentioned option does not cure OST synchronization error then it may be generated due to hardware failure or other reasons. Microsoft Outlook is provided with inbuilt tools scanost.exe and scanpst.exe to cure database corruption. Scanost tool is also known as OST integrity checker and fixes many OST synchronization errors. OST integrity checker tool is stored in local MS Office folder of a Windows Server. You'll not find scanost.exe in the system that uses Outlook 2010 or Outlook 2013. Default location of scanost.exe is:
C:\Program files\Microsoft Office\ Office 12\scanost.exe
Now start repairing corrupt OST file using following steps:
Close MS Outlook if it is running
Double click on Scanost.exe program
Select Outlook profile from your system that is linked with your Exchange account
Click "Connect" if  options "Connect" or "Offline" appear on your computer screen
Select "Scan all folders" option and also check "Repair errors" check box
Click "Begin Scan"  to start repairing selected OST file
Close scanost program
However, OST corruption due to Exchange Server crash, hardware malfunctions or other factors cannot be fixed by scanost tool or other manual options. In such circumstances, you will have to use an automatic OST to PST Converter tool to fix OST errors.

RecoveryFix for OST is an ideal solution to all OST corruption issues. It recovers whole Exchange mailbox from a corrupt OST file and stores recovered mailbox information in the PST file.  This OST repair tool can also restore deleted Exchange accounts of a Server. It successfully recovers mailbox data even from password protected, compressed and highly encrypted OST files.
Summary
OST synchronization errors are generated due to various factors such as virus attacks, hardware malfunctioning and others. There are various manual options to fix OST corruption such as creation of new Outlook profile and OST integrity check tool. However, manual recovery of OST files is not successful in many cases. You must choose automatic OST Repair tool to fix critical OST corruption issues.
Related Posts
Browse by Category