Changing the location of OST or moving OST from its original place to another isn't something that users do very frequently. Although it is not a frequent task to do, you might need to perform it sometimes in your work life. Maybe because you have limited space and you are running out of it, OST file is too big for your current C drive's storage capacity or due to any other reason. It is not recommended to change the location of the OST file, but if it is something unavoidable, then this blog is going to help you with this.
OSTs are very important for any user as they allow the user to access Outlook even without server connection. So, before you try to relocate them, know the risk factor associated with it, and avoid doing it if possible. If you are still determined to do so, then read further to know about the possible methods to perform OST relocation.
Normally, you can find an OST in Drive C in the following path:
drive:\Users\\AppData\Local\Microsoft\Outlook

OR

drive:\Documents and Settings\Application Data\Microsoft\Outlook
Steps to Change the OST File Location by Creating A New Profile
If you want to relocate the OST file, then the easiest and quickest way to do is by creating a new profile. Let's know how you can change the location of OST file by creating a new one:
For this, you first need to refer to the location of the OST file, with the help of the location path we have shared above. So, navigate the location of your OST file, copy it, and paste it at the new location where you want to have the OST file.
OR
You can open the Control Panel, click on Mail > Email Accounts > Data Files > select OST file from the list > Open File Location. By doing this, a window will open, locating the selected OST file in your system's C drive.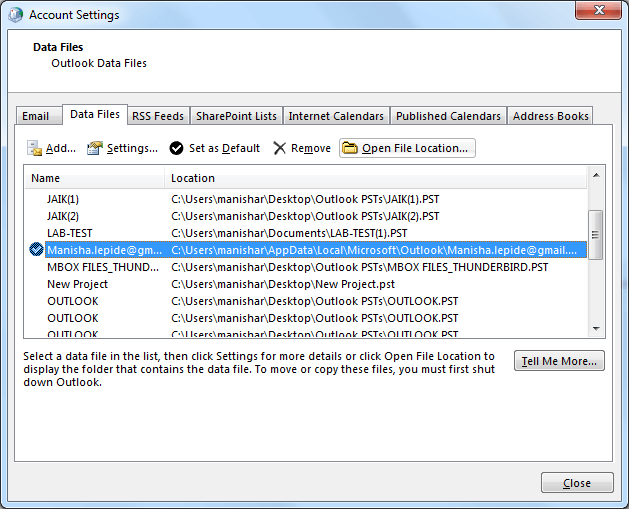 Now, again open Control Panel, click on Mail option, select Show Profiles from there, and a new Mail window will open.
In the new window, click on the Add button and under 'Create New Profile' type the name for your new OST file and click on OK
In the Add Account window, select Email Account and enter the credentials as the Window demands, and click on Next. This might take some time to finish, wait until it finishes.
Once the process is over, check the box 'Change account settings' and click on Next.
Click on More Settings option on the lower left corner of the screen.
In the new Microsoft Exchange window, click on Outlook Data File Settings.
Now, Browse and locate the OST file which you have newly pasted while starting the process. Select the file and click on Open, and finally click on Finish to set up your email account.
Once done with the last step, open Control Panel and click on Mail.
By clicking on Mail, you will see the Mail Window, from where we started creating the New OST profile. There select the newly created OST file and click on 'Always use this profile.'
In the drop-down under 'Always use this profile' select newly created OST file and click on OK.
Now, you will see that the location of the OST file has been changed and from now on your OST data will be saved in the new OST file. So, this is how the relocation of OST happens, but if you have any other requirement regarding your OST file, like migration or conversion, then what you should go for? Well, to get the answer for this, read this blog till the end.
Recoveryfix for OST to PST Converter Tool
Recoveryfix for OST to PST is a conversion tool that helps in converting and migrating OST files with ease. This tool can convert an OST file to many different formats like PST, DBX, EML, & MSG.
The OST to PST Converter tool is designed to not interfere with the integrity of the file, and hence, it maintains the data integrity, structure, and original format. What are you waiting for? The tool has a demo version which you can try for free.

Related Posts
Browse by Category