Green Screen is a new error often occurring when using a Windows Insider build or Windows Creators. Green Screen is a critical error that can videos unplayable. When a hardware component fails, this issue occurs. For example, when watching a video on YouTube, the screen appears green, but the sound continues to play. The Green screen of death (GSOD) error usually occurs after the welcome screen.
Let us know about Green Screen
The Green Screen is a stop error screen. This error rarely occurs, and so very few people know about this. It is due to a critical failure of Windows and appears when running a Window Insider build program. The issue can occur due to many different things, such as corrupted system files, outdated drivers, etc. Sometimes, unsafe third-party software might also cause system errors. Accessing these videos on their PCs is a regular task for users, but this can be distracting with a simple error message "Video not playing."
Fix the Windows Green Screen Error
In this tutorial, we will help you by explaining the wats for fixing the issue of the Green Screen in Windows.
If it is the error is for the first time, you can try performing a computer restart to fix the error. If the issue persists after several simple restarts, move on to the following fixes.
1. Remove the unused applications
Sometimes some unnecessary apps are on your computer that you are not using. Those unwanted apps are creating a problem on your CPU and causing system crashes. So, you must remove those unwanted apps for smooth functioning. The steps are as follows: –
Open Settings by using Windows + I keys.
Then go to Apps and select Apps & features from the list.
Look for the unwanted apps; click on the three vertical dots and select Uninstall.
After removing the apps, restart your system, and hopefully, your issues will be resolved.
2. Update graphic drivers if needed
Outdated graphic drivers are one of the most common reasons that cause Green Screen errors. Graphic drivers play a significant role in the smooth functioning of the hardware by relaying commands between the operating system and the device. You should ensure that you are using the latest version of Graphic Drivers; if not, you can face different types of errors. Make sure to update devices like the graphics card, hard drive, keyboard, and mouse.
Press Windows + S for Search.
Write Device Manager and click on the relevant search result.
Then double-click on the Display adapters entry to view the graphics adapter node.
Now, right-click on the graphics card, then select Update driver from the options.
Then select Search automatically for drivers from the options.
Wait for Windows to find the best suitable driver and install it.
3. Disconnect all Peripherals
The Green Screen error can occur due to a corrupted external device, external power cord, external keyboard, etc. We don't know why this error occurs, so unplug all peripherals from your Windows PC. And see whether the green screen error is sorted out or not.
4. Update the Operating system
Due to a bug in the OS version, the green screen error occurs. Update the version and see if it solves it or not.
Now open the Settings by using Win + I.
Then select Windows Update from the left pane.
Click on Check for updates. Install the latest updates available.
Finally, restart the PC.
Repair corrupt video files
If the above methods don't work, don't be panic; it rarely occurs. We suggest you use a trusted solution to solve the video file corruption issues. You can trust Recoveryfix Video Repair software, a professional tool. This tool can repair corrupt MXF video files, including MP4, MOV, MTS, WEBM, ASF, WMV, M4V, M4A, AVI, AVCHD, FLV, 3G2, 3GP, F4V, etc., with 100% results.

Wrapping Up
You can try various methods to fix the Screen error in Windows. But sometimes, video file issues may be due to video file corruption. There is no need to be in tension; you can always repair your video file using Recoveryfix for Video Repair. It is easy to use and quick; even a non-technical person can use it easily.
Related Posts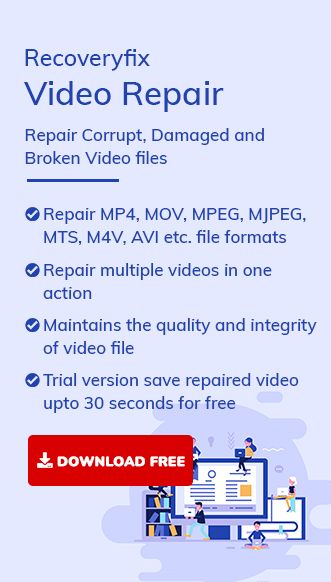 Browse by Category