Docx files are Microsoft Word files that have been in use since they updated their Office Suite in 2007. Before that, the format was minimally Doc. Docx is better in almost every situation. The Docx format files are smaller, making them far easier to share, read, and transfer. Since the Office Open XML standard is open, most Word processing tools can be read, including Google Docs.
How does the Docx file get corrupted?
There are many reasons which may corrupt the Word file. Sometimes files may get corrupt due to some hardware problems, virus attacks, use of Virus infected storage media to store word files, repeated conversion from one format to another, shut down without closing files, virtual hard disk failure, the improper saving of the document, and a lot more.
How to repair corrupted Docx files?
Assume yourself as the person who has spent a no. of hours, days, or months working on a project. The idea of losing all that work can make anyone freak out. If you use Microsoft Office frequently, you know how annoying it can be to lose your work. It can be due to the file being corrupt or lost. But there are some tricks you can use for recovering corrupt or lost documents in Microsoft Office. It is recommended to first backup all your files just to be safe. It is something you should always do since that will help you in case you ever have a situation like this again.
Open and Repair Feature
To deal with Word file corruption, you can also use the Auto Recover files option. This feature is quite easy and useful to remove minor file corruption issues for sure. So, simply follow the steps below to fix the corrupt Microsoft word file:
Step1- Open your MS Word, click on File, and then the Open button.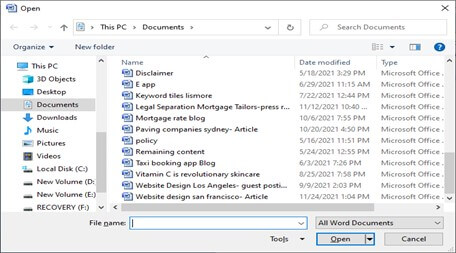 Step2- Next, navigate where your damaged Word document is located, choose the Word file, and click on the down arrow near the Open.
Step3- At last, tap on the 'Open and Repair' option, then MS Word will try to repair and open the files.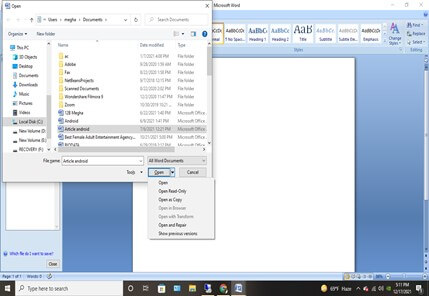 Open the Word file in another application
You can try to open the file in any other application like WordPad. Following are the steps to open the damaged Word documents.
Step1- Locate the corrupted Word files location.
Step2- By right-clicking, go to Open with and choose the other app.
Step 3- Select WordPad and open the file in it.
Recover text from the file
If the issue remains the same, it means you have a Word file with severe corruption. So, give another method a try to repair damaged Microsoft Word document.
Recovering text from the file is another in-built way in MS Word. One can access this feature from the Open dialog box. This is similar to the Open and Repair feature but instead of clicking the drop-down arrow next to the Open button, click the drop-down arrow shown next to All Word Documents. Select Recover Text from Any File and click Open. The Word program will attempt to recover text from the file.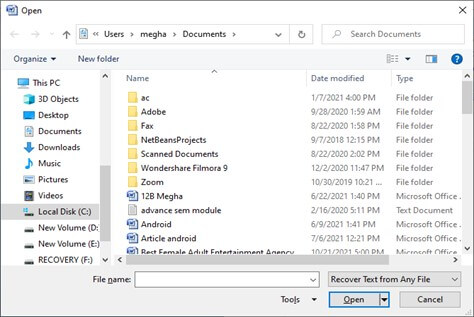 If any error is found, a dialog box with an error message will appear. You can save the file.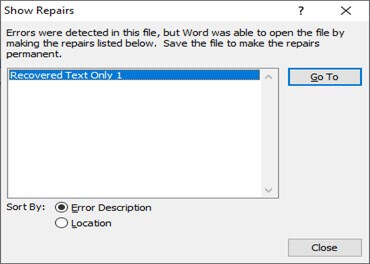 Third-party tools
Several third-party applications on the market are designed to repair corrupt documents. One of the best-known products is Recoveryfix for Word Recovery. This tool works great depending on the extent of the damage, and it can repair any corrupted Docx file. This Recoveryfix for Word tool comes out with great features. It recovers files from most brutal cases like viruses, Office crashes, and different types of errors. It supports all MS word files like Doc, Docx, Docm, etc. After recovery, it retains the originality of the files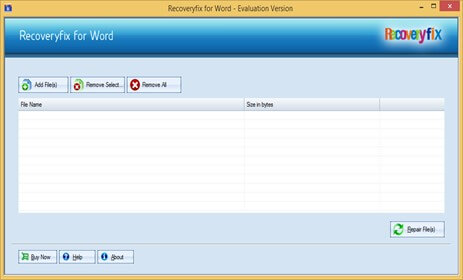 Summary
Always keep in mind that if you have any type of corrupted Docx files that you need to get repaired, you can do so here using Recoveryfix for Word. Not only can you repair Docx files, but also can keep them safe to get corrupt in the future. You can download the Recoveryfix for word tool demo version to know its outstanding features & how it works.
Related Posts
Browse by Category