MS Outlook is the most widely used email client. However, many email users feel that it is very expensive. Fortunately, there are many free alternatives to MS Outlook. Most of them are developed by open source communities. Mostly, these email clients use open source formats like MBOX for saving their emails (in contrast, MS Outlook stores emails in its proprietary format knows as Outlook Data File – PST). Interestingly, these email clients are very popular too.
Recommended Solution
In a situation where the MBOX file needs to be converted into PST format, it is recommended to use the
Recoveryfix MBOX to PST
converter. It allows you to convert multiple MBOX files or folders, without any size limitation.
Mozilla Thunderbird
Mozilla Thunderbird is an open source email client that helps you manage all your email data, events, appointments, journal etc. Thunderbird is a cross- platform email client that runs on Linux, windows, and OS X. As per the claims by Mozilla, Thunderbird is easy to configure and customize. You can get more details from https://www.mozilla.org/en-US/thunderbird/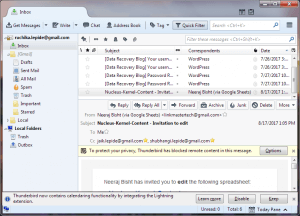 Opera Mail
Though many people have heard about Opera browser, only a few people know about the Opera Mail. Opera Mail has many superb features like spam protection, interactive user interface, and threaded views.  It allows opening emails in multiple tabs simultaneously. It also has automatic filtering option. More details are available at opera.com/computer/mail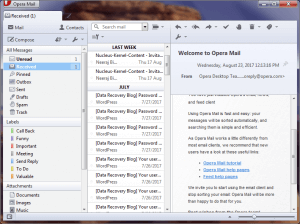 Sea Monkey
Sea Monkey is a free email client that has many advanced features like multiple account support, tabbed mail, blogs & news feeds, and junk mail controls. The project home page is https://www.seamonkey-project.org/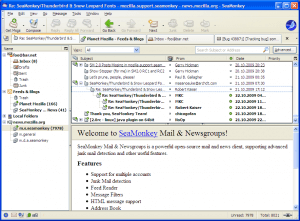 Evolution
Evolution is a personal information manager that supports emails, calendar events, memos, task, etc. It provides facilities like folder search, multiple account support, and much more. Though supported Windows and Mac earlier, it now supports Linux only. Details about Evolution are available at https://wiki.gnome.org/Apps/Evolution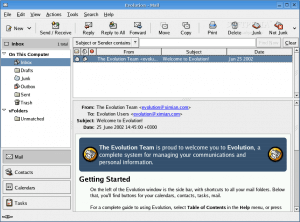 Mulberry
Mulberry is a very versatile email client that is available for Mac, Windows and Linux. But the problem with mulberry is that it is little complicated. It manages multiple POP/IMAP accounts and calendars (local and server side).


Migrating from an MBOX email client to MS Outlook
Though MBOX email clients mentioned here are popular and free, a situation may come when a user has to switch from them to MS Outlook.  However, one cannot import MBOX files to Outlook directly. So it becomes necessary to convert MBOX file to PST format. I suggest Recoveryfix for MBOX to PST tool to perform this conversion. This tool works with MBOX files of many email clients. In this tool, you can apply multiple filters to the mailbox data so that you can filter emails according to your need. This tool supports all versions of MS Outlook and Windows operating system.

Related Posts
Browse by Category