Nowadays, emails have become an integral part of our lives. In this day and age, it has now become one of the most convenient and reliable methods to transmit and receive information. Along with that, email managers like MS Outlook also gained popularity among email users. Since its inception, MS Outlook has been gaining popularity and has slowly made many other email clients obsolete. Many users and organizations are now looking for alternatives and tools to migrate from their existing email clients to MS Outlook. The reason for Outlook's popularity can be attributed to the tons of inbuilt features and options which comes with it. Sometimes it is not only the popularity and the features which make the user switch to Outlook. For Example, a user switching from MAC to Windows OS also needs to migrate from Apple Mail to MS Outlook. Why? Because Apple Mail is not supported by the Windows platform.
MBOX file format is a pretty standard file format for storing emails on disk drives. MBOX files were used predominantly on UNIX, but as mentioned earlier, it is now losing popularity as many users have switched to Outlook which uses a PST file format for saving emails. In this post, we will learn about the features of Recoveryfix for MBOX to PST Converter tool. Also, we will go through methods to manually migrate from an MBOX email client to a PST based client.
Top reasons why migrate from MBOX to a PST based client
Before moving on with the conversion, one should access the pros and cons of this process. The possible reasons why many users migrate are as follows:
Essential requirement: You have joined a new organization, and your firm uses a different email client
Switching to a different OS: You have switched from a MAC OS to a Windows OS
Personal reasons: Maybe you don't like your current email client
Portability: It is easier to copy and save your emails in a PST format.
Security reasons: You can password-protect a PST file to prevent unauthorized accesses. And who doesn't like an additional layer of security?
Backup and disaster recovery: Copying your email to a local PST file is a pretty fast way to ensure that all of your emails are recoverable in a disaster recovery scenario.
How to manually import an MBOX file into MS Outlook?
Manual migration of MBOX files to a PST is a cumbersome process for some users, but it works. This can be easily achieved in a few steps:
Save MBOX files as EML files
Drag and drop EML files to an Outlook folder
Export and save as PST files
Save MBOX files as EML files
For the ease of access, we will be using Mozilla's Thunderbird email client for the tutorial.
Open the MBOX email client (Thunderbird in this case) and create a new folder.

Enter a folder name and proceed.

Select the mails that you (hold CTRL +Left mouse click) want to save.

Check the folder to ensure that it has all the emails which you earlier moved.

Select and save the EML files to the desired location.

Check the location where you have saved these EML files.
Drag and drop EML files to an Outlook folder
Just select the emails one by one or all at once and drag and drop them in any folder in MS Outlook. Voila! You have successfully imported your MBOX/EML files to MS Outlook.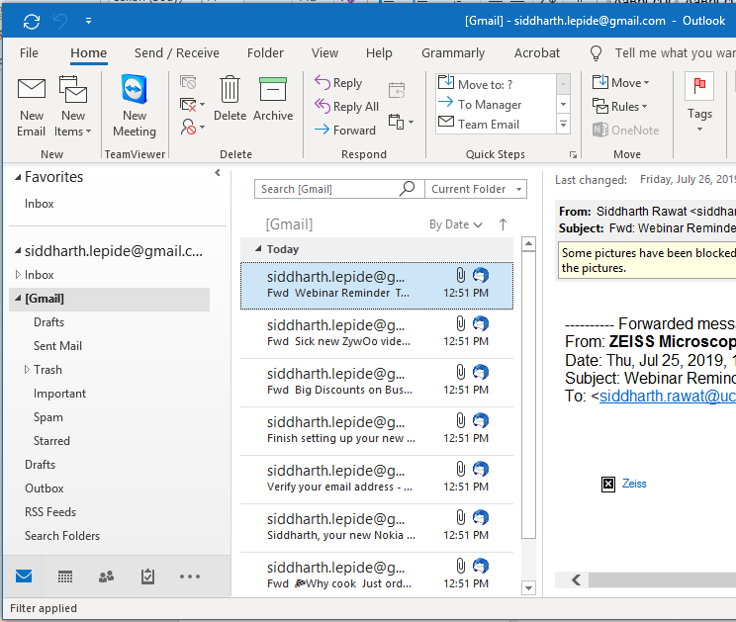 Export and save as PST files
In the next few steps, you will learn how to export the previously imported EML file(s) from Outlook and save them in PST file format.
Go to File> Open & Export> Import/Export

Select the option Export to a file from the list and hit Next

Then select Outlook Data File (.PST) option and hit Next

From the dropdown menu, select the folder containing your emails and hit next.

Choose the appropriate option and click on the Finish tab.

You can verify the Save by going to the path/location, as mentioned in the previous snippet. For example-

C:\Users\siddharthr\Documents\Outlook Files

How to migrate from an MBOX client to PST using an automated method
Migrating from one email client to another can be an annoying and challenging task for some users. To save you some time, Recoveryfix for MBOX to PST Converter tool is at your disposal. This software has a lot of cool features and lets you convert single or multiple MBOX files to PST in a swift manner. It supports 20 MBOX clients such as Entourage, PowerMail, Thunderbird, Eudora, Apple Mail, and many more. Besides, it allows you to export MBOX files to four different formats such as Outlook PST, MSG, EML, and Office 365. The trial version can be downloaded, but it is limited to 25 items (migration) per folder.

By following the steps mentioned below, anyone can quickly convert and save MBOX files to PST, MSG, EML, and Office 365:
After opening the software, the user will be prompted to select the email client for migration.

Next, select the path/location of the folder containing the MBOX files.

Select the folder(s) you want to convert.

Next, you will be greeted with a conversion options dialog box. Select accordingly.

Next, you can choose to save the files to any one of the four formats

Next, a dialog box will show you the progress of the Save process.

Next, you will be prompted with a dialog box; showing you the location of your PST file.

You can go to the location (just for the sanity check!).

Conclusion
We have discussed a manual and an automated method to migrate from MBOX to MS Outlook. Some users might find the manual process time consuming, while on the other hand, Recoveryfix for MBOX to PST Converter tool quick.
Related Posts
Browse by Category