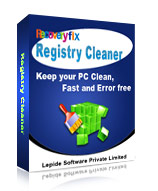 While working with computer system, users frequently come across different issues in which one of the most common issues is slow performance of the system. Including this, slow start up speed, frequent system crashes, improper shut down are also very common symptoms of corrupt systems. Such issues occur when Windows registry files get corrupted or infected due to any possible reason.
In order to resolve all such kinds of errors, Scan your system with RecoveryFix Registry Cleaner & optimizer software for Windows. It is one of the most effective Windows registry repair tool which resolves & fixes whole errors that make your system slow.
Features of Registry Repair Software: At a glance
Performs quick scanning of the entire Windows system registry .
Enlist all the errors in a tree like structure found in the registry files with risk profiles: High, Medium and Low.
Correctly repair & fix all the errors found in the registry & finally make Windows system registry error free.
Easily resolves issues like PC crashes, Blue screen of deaths, PC freezing that are resulted due to Windows registry errors.
Equipped with Defrag Registry option for fast and enhanced system performance.
Create backup of whole Windows registry and save it at a safest location of your system.
Integrated with user friendly GUI features for easy employment even by new users.
Windows registry files are the most complex & vital components of your PC and it contains entire complete settings of user profiles, operating system, Installed programs later gets heavier due to extra and invalid registry entries. They are generated by regular installation and un-installation of programs and applications. In this way, the additional and invalid entries of Windows registry make your system speed very slow it cause circumstances like PC crashes, Blue screen of deaths, PC freezing etc.
Common issues that users encounter due to Windows registry errors:
.DLL error messages
Blue Screen of Death
Fatal exception error
500 internal server errors
404 error message
PC doesn't shuts down correctly
Kernel32 DLL error
MYSQL error
Connection error
PC doesn't startup correctly
Printer error
Forbidden error
Memory error
Runtime error abnormal program termination
Script errors
Windows installation error
Hard disk errors and .EXE application error.
Thus by using RecoveryFix Registry Cleaner software you can quickly scan and fix all minor & major registry errors affecting your system. You should not get worried & just use this registry repair software & get an enhanced system speed with great performance. It is integrated with Defrag and compact options for best possible registry optimization. In case, of corrupt or virus infected Windows registry, it creates backups for registry security. It supports Windows 95, Windows 98, Windows NT, Windows ME, Windows 2000, Windows XP, Windows vista, Windows 7 and Windows8.
Download trial version before purchasing full version:
RecoveryFix Registry Cleaner software is now available with free trial version which can be simply downloaded from website. This evaluation edition of software allows you to get real experience of repairing & fixing Windows registry issues in an efficient manner. It works same as the full version of the tool but it restricts you from restoring resulted Windows registry.